Embark on a game drive across Kruger National Park's grasslands and open plains in special search of Africa's Big Five. While Kruger is known for its extraordinary array of wildlife, this afternoon safari especially emphasizes elephants, rhinos, buffalo, lions and leopards. You'll explore the savannah and scour acacia trees from an open-roof 4x4 vehicle, an experienced ranger at the wheel. For anyone looking to knock the Big Five off their list, this is one day tour you won't want to miss.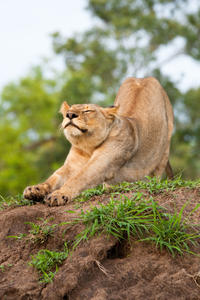 Leave your Mpumulanga lodge by air-conditioned coach and travel into the heart of Kruger National Park, one of Africa's largest expanses of unspoilt wilderness. After arriving at one of the park's safari lodges, meet your guide – a professional ranger – and then hop inside your 4x4 vehicle to explore the park.

Sit back and relax as your guide drives you around the park, looking out for the animals that make up the famous Big Five and listening to tales about the animals of Kruger National Park. The term 'Big Five' was coined by poachers who originally used it to refer to the most difficult animals to hunt on foot; today, it represents some of the most elusive and exciting animals to see on safari.

Learn about the animals' behavior from your guide, and enjoy several photo stops to capture the raw natural beauty of the park's wildlife. Kruger National Park's scenery is also incredible, and the savannah vistas – as the sun starts to fade – are unforgettable.

Your game drive finishes back at the safari lodge. After bidding your guide goodbye, hop back on board your coach and return to your Mpumulanga lodge.