Embark on a unique pilgrimage to the ancient ruins of Sardis on this full-day private Jewish Heritage tour from Kusadasi, including lunch and hotel transfers. Explore the remains of the Lydian capital, once home to one of St John's Seven Churches of Asia, then view its striking Roman synagogue. Next, journey to nearby Izmir to wander around the Jewish quarters of Karataş and Kemeraltı, stopping to admire the many synagogues and landmark Asansör.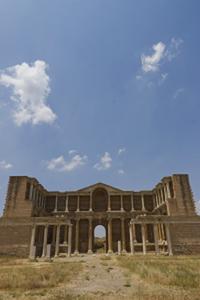 Start your day trip with a hotel pickup from central Kusadasi, and travel north to Selçuk, a town that's known as the gateway to the Classical city of Ephesus. Selçuk has its fair share of monuments, too, and your private guide will point out some of its highlights as you travel through town.

Around late morning, arrive in the village of Sartmustafa, home to the incredible ruins of ancient Sardis. The former capital of the Lycian kingdom, Sardis was subsequently lived in by both the Persians and Romans, and all civilizations left their mark on the city. Today, beautifully preserved ancient temples sit cheek-by-jowl with Byzantine architecture, displaying the glory of Sardis' historical heydays.

Follow your guide around the Temple of Cybele and Temple of Diana, hearing stories of the gods for whom the monuments were built, and gaze at the River Pactolus that flows majestically through the town. Amble along the Persian-built 'royal road,' and then head inside the impressive Sardis Synagogue to swoon over its reconstructed interior.

Take a break for lunch in town, and then continue your journey north to Izmir. After roughly 2 hours on the road, arrive in the city's Karataş neighborhood, aka the Old Jewish Quarter. Stretch your legs on a stroll along pretty Dario Moreno Street, and visit the Asansör, a quirky elevator built to facilitate trade between Karataş and a neighborhood further up the hill.

Relax on a drive through Kemeraltı district and look out for the tiny synagogues of Havra Street that once served the community's Jewish merchants and artists. After hearing more tales of Izmir's rich Jewish history, make your way out of the city and travel back toward Kusadasi. Your tour then finishes with a drop-off at your Kusadasi hotel or at Izmir International Airport, if you prefer.