Hike a section of the Nakasendo Trail on a 3- or 4-day self-guided tour from Tokyo or Kyoto that includes all rail transport. A series of forested trails and paved village paths linking the two cities comprise the Nakasendo, a trail among an ancient network of Japanese highways. Follow in the footsteps of travelers from the Edo period who walked this mountain route via the Kiso Valley. Stop in the best-preserved post towns — known as 'juku' — where you'll stay overnight in local 'minshuku' (guest houses). Traditional Japanese dinners and breakfasts are included!
Overnight accommodation is limited to 12 people on this independent tour, ensuring a personable experience with a small group of fellow travelers.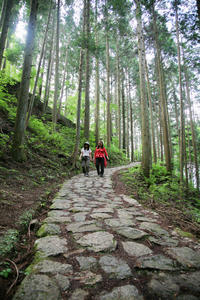 Weave your way through charming mountain towns located between Kyoto and Edo (as Tokyo was formerly called) along the Nakasendo Trail, established by the Tokugawa Shoguns!
Choose from a 3- or 4-day self-guided walk, ranging from 2 to 6 hours per day of easy to moderate hiking, including some gentle ascents and descents along village paths and forested trails. On shorter days, take time for independent sightseeing in the lovely old Nakasendo post towns along the way. (You also have the option of riding buses between towns on two of the days.)
You'll stay overnight in local, family-run Japanese inns (minshuku) with a maximum of 12 fellow travelers. These less formal accommodations are simply furnished without en-suite facilities, but they provide excellent personalized service, including home-cooked Japanese breakfasts and dinners.
Train tickets from Kyoto (or Tokyo) to the start of the walk in Nakatsugawa (including a ride on the Shinkansen bullet train), and from Narai (3-day tour) or Kiso Hirasawa (4-day tour) back to Kyoto (or Tokyo) are included.
Baggage forwarding (own expense) can be easily arranged with instructions provided. Send your main luggage ahead from your accommodation before the Nakasendo Trail to wherever you are staying after the trail, using one of the efficient and secure luggage-forwarding services. With a yukata (a casual kimono) supplied by each inn, you can manage with just a small pack containing your overnight essential items for your 2 or 3 nights on the trail.
With a detailed day-by-day itinerary, including walking instructions and a topographical map, you're ready to embark on the trail!
Itinerary
3-day Nakasendo Trail Self-Guided Tour
Day 1: Kyoto – Nagoya – Nakatsugawa – Magome – Tsumago (D)Make your way to the railway station in Kyoto (or Tokyo) and travel for 2 hours by train to Nakatsugawa. You'll ride the world-famous Shinkansen (bullet train) to Nagoya and transfer to a regular train to your destination, where you'll board a local bus (additional expense) for the 25-minute ride to Magome.
Sixty-nine post towns comprise the Nakasendo Trail, numbered from Tokyo, and Magome is the 43rd. With your map in hand, embark on your self-guided walk from here, hiking approximately 3.5 hours to your next destination: Tsumago, the 42nd post town. The 5.2-mile (8.3-km) journey takes you over one of the most challenging parts of the Nakasendo — Magome Pass — located 801 meters (2,268 feet) above sea level). In total you'll gain 1,069 feet (326 meters) in the ascent and 1,410 feet (430 meters) in the descent to Tsumago.
One of the most well-preserved post towns of the Nakasendo, Tsumago evokes a traditional village of the late Edo period. After a delicious home-cooked Japanese dinner, enjoy a stroll though the village streets and enjoy the magical quiet of the evening while wearing a yukata supplied by the minshuku.
Afterward, unfurl your Japanese futon in your tatami-mat room for a sound night's sleep.
Please note: If you prefer not to walk from Magome to Tsumago, buses connect the villages every couple of hours for a 25-minute ride (own expense).
Overnight: minshuku in Tsumago
Day 2: Tsumago – Nojiri – Kiso-Fukushima (B, D)Departing Tsumago after breakfast, set out for the walking trail, which winds through small valleys and past forests of bamboo and Japanese cedar, including some of the most beautiful (and least developed) scenery of your itinerary. Your approximate 6-hour hike to Nojiri covers a distance of 11.5 miles (18.4 km), reaching an elevation gain of 2,275 feet (723 meters) and then descending another 2,112 feet (644 meters) in altitude.
En route, you can purchase snacks and lunch at a supermarket in the village of Nagiso, located about 1 hour along the route.
When you reach Nojiri, continue by local train on a 35-minute journey to Kiso-Fukushima, with complimentary pickup from the railway station provided by your accommodation. This lovely ryokan, situated in a remote valley above the town, offers lovely indoor and outdoor hot-spring baths (onsen).
Soak your weary muscles and enjoy a Japanese dinner with fresh local produce before retiring for the night.
Please note: You can choose an alternative option with just 1 hour of walking 2.3 miles (3.7 km) instead. From Nagiso, board the train for a 40-minute ride to Kiso-Fukushima (own expense).
Overnight: ryokan in Kiso-Fukushima
Day 3: Kiso-Fukushima – Yabuhara – Narai – Kyoto (B)After breakfast, travel by train for 15 minutes from Kiso-Fukushima to Yabuhara, the starting point for today's walk. Although Yabuhara flourished as a post town during the feudal Edo period, few original buildings remain due to repeated fires in the past.
From Yabuhara the 3.9-mile (6.2-km) trail climbs Torii Pass, one of the most challenging parts of the Nakasendo. You'll gain 1,128 feet (344 meters) in elevation before descending another 885 feet (270 meters) toward Narai during an approximate 3.5-hour hike.
Once known as 'Narai of 1,000 inns,' it was the most prosperous of the post towns along the Nakasendo Trail. Here, past travelers prepared for or recovered from tackling the steep Torii Pass. In contrast with Yabuhara, residents of Narai chose to renovate their historic houses.
Explore this evocative village before boarding the train for your return to Kyoto (or Tokyo). It's a 3.5-hour ride to Shinjuku station in Tokyo and a 4-hour journey back to Kyoto.
If you sent your main luggage on ahead, it will be waiting for you when you reach the accommodation you have arranged for this evening.
4-day Nakasendo Trail Self-Guided Tour
Day 3: Kiso-Fukushima – Yabuhara – Narai (B, D)Following the same 3-day itinerary above, enjoy dinner at your minshuku in Narai before your fourth and final day on the trail.
Overnight: minshuku in Narai
Day 4 - Narai – Kiso-Hirasawa – Kyoto (B)After breakfast at your accommodation in Narai, walk a short distance of 1 mile (2.5 km) to Kiso-Hirasawa, which takes approximately 1 hour. From this Nakasendo town, which flourished as a center of lacquer ware production, enjoy the 3-hour journey back to either Kyoto or Tokyo by train.