Get a rare glimpse into one of Kyoto's most important temples accompanied by a monk-guide on this 2.5-hour Viator tour — a VIP experience available nowhere else. In a small group limited to eight, enjoy special access to restricted areas of the To-ji Temple as your monk shares tales of the UNESCO World Heritage–protected site. Explore the 5-story pagoda, a symbol of Kyoto usually closed to visitors, and admire the statues and architecture of Kondo and Kodo halls. Lastly, try your hand at the Buddhist calligraphy technique of 'shakyo.'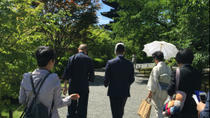 Make your own way to To-ji Temple, one of Kyoto's UNESCO-listed sites, and be greeted by a member of temple staff. After a short orientation, meet your resident monk, who will act as your guide for your tour.

Follow your monk around the 5-story pagoda, the tallest in Japan at 180 feet (55 meters), and only accessible to guests on this tour. Learn how it dates to 876, but rebuilt in 1644 after a fire.

See the highlights of the first floor, including the four Buddha statues, and hear about the temple's history from your monk. Study the Buddhist decorative art on the walls and pillars, and marvel at the engineering that has kept the structure standing for four centuries.

Head inside Kondo Hall, a splendid example of Momoyama-period architecture reconstructed in 1602 after fire destroyed it in1486. Admire the three large Buddha statues and 12 figurines of divine generals, and then switch your sights to Kodo Hall, the lecture hall.

Learn how it began life in 825 before being burned down in the 1486 fire, and later reconstructed in its original style. See the 21 Buddha statues, some dating to Japan's Heian period (794-1185), and then enter the Jikido Hall.

Take a seat in the reserved area, and watch a brief presentation on shakyo calligraphy, hosted by your guide-monk. Learn about this ancient copying of sutras (Buddhist scriptures), and how it is practiced as a meditative skill, and to accrue blessings from Buddha. See your monk at work, and try shakyo yourself using a pen and paper. Experience the calm and focus that comes with it, and receive a copy as a keepsake, and another copy to leave in the temple as an offering.

After another hour exploring the temple buildings and gardens, your tour ends when you bid goodbye to your monk.

Viator VIPs feature travel experiences not typically available to the general public — from behind-the-scenes access to private viewings and VIP service — at many of the world's top attractions, often with no lines and no crowds. Viator VIP tours are not available from other 3rd-party online sellers.