Go cross-country skiing in South Lake Tahoe, and enjoy the winter wonderland scenery while getting an excellent workout. With this cross-country ski rental package, you'll receive the equipment you need to explore the mountain trails of the Sierra Nevada. Get fitted for boots, poles, skis, and bindings—plus you can rent or buy outerwear, if you need it. Reserving your rental in advance ensures you won't miss out during the busy ski season.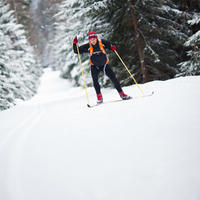 Select the rental shop that's most convenient for you to begin your Lake Tahoe cross-country skiing adventure. A member of the trained staff will fit you with boots, bindings, skis, and poles, and give you tips on area trails that match your experience level. You can also take a brochure or map of the area with you.

Other gear is also available to rent (jackets, pants, and helmets) or purchase (gloves, hats, and goggles) if you left anything at home. When you're suited up, head out on your own for exploring, either in the backcountry or on dedicated cross-country terrain. Perhaps visit Kirkland Resort, near Kirkwood ski resort, where 50 miles (80 kilometers) of groomed trails offer something for all levels of ability. Traverse the open meadow to admire views of the mountains, or head up a hill to burn more calories. If you get cold, hit the warming hut for a break.

If you'd rather be closer to Lake Tahoe itself, you can visit Heavenly's Adventure Peak, which can be reached by the Heavenly gondola (own expense). Explore its 3 miles (5 kilometers) of cross-country trails that take you in and out of the trees and provide views of the lake 3,000 feet (914 meters) below you. Heavenly's cross-country trails are separate from snowshoeing trails, so you can ski freely on tracks for both diagonal stride and skating.

At the end of your rental period (one, two, or three days), just return your equipment to the rental shop.