Chase the Northern Lights by snowmobile on this exciting 3-hour trip from Levi. With an expert guide, ride a snowmobile through the pitch-black Arctic countryside in search of the natural light show. With your headlights showing the way, let your guide lead you to prime viewpoints, known as good spots to witness the phenomenon, and with luck, catch a spectacular display. Cruise through snowy forests, weave around fells and zip across frozen lakes, and break halfway for a hot drink and sausages by a campfire.
Highlights
3-hour Northern Lights experience by snowmobile from Levi
Race around dark wintery forests and across frozen lakes lit only by your headlight beams
Keep a lookout for the magical Northern Lights overhead as you ride
Enjoy a good chance of seeing this natural occurrence that is regularly visible in Lapland's winter night skies
Dig into tasty sausages and a warm drink by a campfire midway through your trip
What You Can Expect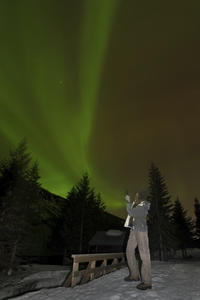 Dress in warm layers and enjoy a pickup from your hotel in or near Levi. Hop inside your comfortable minivan or coach and drive to the snowmobile station.

Meet your friendly guide, pull on your provided helmet and thermal suit, and, after a safety briefing and instructions, hop onto your gleaming, 2-person snowmobile. 

Switch on your headlights, choose to drive or ride pillion, and zoom into the frozen countryside behind your guide vehicle. 

Speed along trails and feel the crisp Arctic air on your face as you wind through the dark woodlands and fells. If the night is clear, enjoy the soft glow of moonlight and coast over undulating hills, frozen lakes and wintry fields.

Along the way, look for the Northern Lights, also called the Aurora Borealis. Only visible in northern latitudes, these multi-colored ribbons of light are caused by electrically charged particles hitting the Earth's atmosphere. Sightings can never be guaranteed, as the lights are dependent on weather and chance. However, your expert guide will hunt out the best potential vantage points, boosting your chances of sightings. 

Around halfway through your expedition, arrive at a camp and boost your energy with a hot drink and sausages cooked on a campfire. Watch for the Northern Lights as you relax and refuel, and return to your snowmobile.

Cruise through the snow back to the base station, and end your trip with a drop-off at the original start point.
Please note: the order of activities as described above may alter on the day of your tour depending on weather conditions, daylight hours and other seasonal factors.