There are few places in the entire world with the beauty of the American West, where the wildlife, mountains and wide-open spaces create a feeling of transcendental freedom. On this 7-day camping tour through the American West, experience the beauty of Bryce Canyon and Yellowstone National Park, and see the Tetons mountains vertically stretching their way towards an open blue sky. Go searching for bison, bears, and wolves, and also enjoy the Mormon Tabernacle on a stop in Salt Lake City. The tour includes five nights of camping, one night in a hotel and most meals.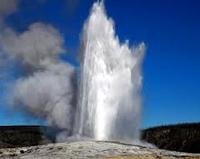 On this unforgettable, 7-day adventure of the American West from Las Vegas, visit some of America's best sights in Utah, Montana and Wyoming. Hike the hoodoos of Bryce Canyon National Park and search for bison in Yellowstone. Then, on a stop in Salt Lake City in Utah, hear the Mormon Tabernacle choir and explore the Provo River region. Five out of six nights are spent outside, camping under the stars, where you feel even closer to this wild landscape and the rugged natural surroundings. This tour is capped at 14 people, and for more info and details on sights, see the Itinerary section.
Itinerary
Day 1: Las Vegas – Bryce Canyon National Park via Cedar Breaks (L,D)

Meet your small group and guide at 8am, and travel by comfortable minibus from Las Vegas to Utah, arriving at Cedar Breaks National Monument. View this lovely canyon from its rim at 10,000 feet (3,000 meters), admiring the lava flows and Sevier River Valley below.

Continue to Bryce Canyon National Park, where you'll savor a picnic lunch. In the afternoon, walk along the rim of the park's Amphitheater area to admire its distinctive red rock spires, or hoodoos. Or, hike down into the canyon to get a closer look at these vibrant formations. Through a ranger program, learn all about the fascinating geology of this gorgeous national park.

At night, help your group prepare a barbecue meal at your campfire and savor it under the stars. Relax in the outdoor hot tub before settling into your tent at a campground in Bryce City, Utah.

Overnight: Ruby's Campground in Bryce Canyon City, Utah

Day 2: Bryce Canyon National Park — Salt Lake City (B,L)

Head north to Salt Lake City and spend the day learning about the history of Utah's capital city and the Mormon religion. See the Great Salt Lake, the largest saltwater lake in the Western Hemisphere. Visit the Mormon Tabernacle, home to the world-renowned Mormon Tabernacle Choir. You'll also see the State Capital Building and the territorial governor's mansion of Brigham Young — the founder of Salt Lake City and a leader in the Mormon religion.

Following dinner, settle down for the night at the only hotel of your trip.

Overnight: Shilo Inn Suites or similar in Salt Lake City, Utah

Day 3: Salt Lake City — Grand Tetons National Park — Jackson (B,L,D)

Today, make your way to the breathtaking landscapes of Grand Teton National Park in Wyoming. Marvel at craggy, snow-capped peaks; crystal-clear lakes; and an abundance of wildlife as you explore this amazing park. Hike deep into the Teton Range to Inspiration Point, or take a scenic stroll around Jenny Lake. Enjoy a picnic lunch, keeping your eyes peeled for moose or even a grizzly bear! Depending on the weather, you may also enjoy a scenic boat ride on Jenny Lake.

Join your group for dinner at your campsite on the Snake River in Jackson, Wyoming.

Overnight: Camp inside Grand Teton National Park

Day 4: Jackson — Yellowstone National Park (B,L,D)

Savor breakfast before traveling to Yellowstone National Park, America's first and foremost national park. Established in 1872, this wild, sprawling park is home to many of the world's geysers, including Old Faithful. Delight in this famous geyser, which spouts on an amazingly regular schedule. Observe other volcanic features such as hot springs including the Grand Prismatic Spring, mud pots and fumaroles. Admire the impressive Grand Canyon of the Yellowstone, and learn about the natural forces that created this region from your guide.

Keep your camera ready for sightings of grizzly bears, wolves, bison and elk, and take a dip in the Mammoth Hot Springs to finish off your day. After dinner, retire to your campsite in West Yellowstone, Montana.

Overnight: Camp Yellowstone or similar in West Yellowstone, Montana

Day 5: Yellowstone National Park (B,L,D)

Continue to discover Yellowstone with your guide. Go on hikes ranging from easy to moderate and 2 to 5 miles (3 to 8 km) in length, and see more spectacular volcanic features. Your guide will tailor hikes to your group's abilities and interests. Today you will also visit Yellowstone's Grizzly Bear and Wolf Discovery Center (at own expense, approx USD$11) where you will observe these animals and learn about their impact on the Yellowstone ecosystem.

Overnight: Camp Yellowstone or similar in West Yellowstone, Montana

Days 6: Yellowstone National Park — Rocky Mountains (B,L,D)

Today, you'll head back to Utah to explore the Provo River region. See dramatic canyons and Utah Lake, the largest freshwater lake in Utah. Take an easy path for a close-up view of Bridal Veil Falls, which plunges 607 feet (185 meters) into the Provo River. Or try a more strenuous hike to Y Mountain, Cascade Springs or Rock Canyon. Enjoy a barbecue feast for dinner before hunkering down for the last night of your tour.

Overnight: Provo Lakeside Rocky Mountain Campground or similar in Provo, Utah

Day 7: Rocky Mountains and Snow Canyon — Las Vegas (B,L)

After breakfast, board your minibus for the ride back to Las Vegas. On the way, you will have a chance to explore the trails and dunes of beautiful Snow Canyon which are surrounded by ancient lava flows and red Navajo sandstone. Your 7-day camping trip to some of America's most beloved national parks concludes in Las Vegas in late afternoon.