Experience one of Lima's most magnificent museums by night on a 3-tour of the Larco Museum with dinner. Immerse yourself in the cultural intrigue of the museum with a knowledgeable guide, exploring extensive collections of pre-Colombian artifacts as you delve deeper into Peru's fascinating history. Then, sit down to a gourmet dinner inspired by the regional specialties of Peru. Sip sweet pisco sours as you absorb the tranquil ambience of the museum's beautiful gardens on this cultural and culinary experience.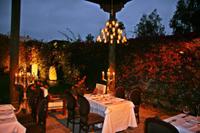 After hotel pick up in Lima, travel to the site of the Larco Museum in an air-conditioned minivan, accompanied by a knowledgeable guide. Enter the museum and begin your enriching exploration of the exhibitions; see over 50,000 ancient Peruvian pots; admire glittering jewelry and intricate masks; marvel at the accurate detail of Moche portrait vessels, ceramic sculptures resembling human faces; and discover ceramics created by ancient Inca, Nazca and Chancay cultures.  

After gaining heightened historical insight, take a seat in the elegant dining room to begin your epicurean experience. Enjoy the ambient atmospheric and beautifully sculpted gardens as you sip a freshly mixed pisco sour and converse with your companion. Pleasure your palate with regional specialties like lomo saltado, tender strips of beef cooked with vegetables and spices, accompanied by creamy causa limena, a mashed potato dish flavored with chili and lime. 

Digest your excellent experience during the relaxing ride back to your Lima hotel.