Get a ample taste of Peruvian cuisine on a guided, half-day foodie tour through Lima. Visit a local market and later, test your skills at concocting two famous Peruvian treats: ceviche and a pisco sour. This wonderful intro to Peru's culinary world also includes a buffet lunch full of traditional and gourmet Peruvian dishes.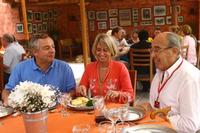 Enjoy traditional dishes of Peru on this half-day food tour in Lima. After pickup from your Lima hotel, start your culinary adventure at a local fruit and veggie market with your tour guide. Your guide will introduce you to many foods found in Peru and other South American countries that are common ingredients in Peruvian cuisine. See mini avocados; taste chirimoya, a fruit native to South America; and sample Peruvian lucuma, a uniquely flavored fruit grown in Peru.

Your tour continues at a local seafood restaurant where an expert chef will teach you how to prepare ceviche, a chilled blend of fish, shrimp and other seafood marinated in various seasonings. Then, enjoy a delicious buffet lunch where you'll taste many traditional dishes, as well as desserts .

End your tour on a high note at a Lima tavern, where you'll prepare (and drink!) Peru's national cocktail, the pisco sour, before heading back to your hotel.