Find the best in Lima retail and handicrafts on a three-hour shopping tour. An expert guide well-versed in Lima stores takes you in a private, air-conditioned vehicle to either Jockey Plaza or Larcomar, hailed as the city's two top shopping venues. Then it's on to the Miraflores handicrafts market to browse for artisan jewelry, alpaca wool clothing, locally made rugs and more. Your guide can assist with purchases, transport your goods, and anything to help make this an effortless shopping experience.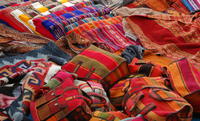 After pickup from your hotel in an air-conditioned vehicle, head with your private guide to either Larcomar or Jockey Plaza, your choice!

If you choose Larcomar, you'll find an upscale outdoor mall on the Miraflores waterfront, where shops sit between a bowling alley, theater and restaurants. Shop for high-end clothing at stores like Michelle Belau, Beloved and Guess, and then take some time to admire the shopping center's dramatic location, perched on top of the cliffs with a Pacific Ocean view almost as beautiful as your new designer threads. If you get hungry, head to one of the many eateries – including local spots and American chains like Starbucks – to grab a bite to eat (own expense).

At the two-story Jockey Plaza, you can shop at department stores and boutiques. This well-to-do mall in the Barranco neighborhood – just south of Miraflores – is home to Saga Falabella, a Peruvian department store where you can shop for clothes, electronics and home accessories. Then do as the affluent women of Lima do by browsing women's clothing stores like Bugui Damas and Juicy Couture. If you need a snack or lunch, head upstairs to the food court (own expense), which offers everything from a Tony Roma's to sushi to Chinese.

Next, your guide will take you to the Miraflores handicrafts market, so you can see another side of Lima shopping. Browse beautiful pieces of jewelry, rugs and clothing by expert artisans, and admire the intricate work with gold and silver, alpaca wool and other textiles.

If you have any questions about the wares at any of these shopping locales, or need help with translation, your guide is there for you! You'll get tips on which stores to visit for specific items, and how to find the perfect souvenir to take home. Plus, you and your bags will be taken back to your hotel at the end of your tour, saving you from carrying a heavy load!