Explore southern Portugal's most epic village on this immersive 4-day trip, departing from Lisbon by coach. With the help of your expert guide, tour the charismatic villages of Sagres, Évora, Lagos, Beja and Setúbal. While many travelers spend their time in Portugal's famous cities, get a dose of the laid-back and beautiful south on this trip. Go with your guide to Sé de Évora Cathedral and St Francis Church in UNESCO World Heritage-listed Évora, and discover the Sao Vicente Fortress in Sagres. Learn about the fascinating history behind these places with informative stories and historical anecdotes from your guide. Stroll picturesque countrysides and enjoy time on your own. Admire the stunning views of the dramatic Algarve coast, including the Ponta da Piedade cliff, Praia da Rocha beach in Portimao, and Serra da Arrábida Natural Park on this unforgettable hassle-free getaway.
Why Our Insiders Chose This Tour
You'll discover castles, cathedrals and the warmest beaches of Portugal on this journey to the southern part of the country. Breakfast buffets are included, while free time for other meals allows you to disover local specialties.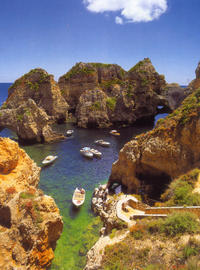 Your 4-day tour of southern Portugal begins by meeting in central Lisbon. Meet your expert local guide and settle in to your comfortable coach bus for a memorable adventure. See some of Portugal's most scenic coastline and quaint country villages. Learn about historical monuments and enjoy time to explore on your own. This tour balances guided group activities and autonomy, so you can have the best of both worlds. Three nights of accommodation in superior-class hotels are included, as well as three breakfasts.
See the Évora, a UNESCO World Heritage-listed town that is home to the famous Romanesque-Gothic Sé de Évora Cathedral. In Beja, snap photos of medieval castles. Also admire Silves' stunning sandstone castle.
In the Algarve region, take in the dramatic coastal scenes at Praia da Rocha beach and Ponta da Piedade cliff. You won't want to miss a photo opportunity at Cabo São Vincente. Discover Sagres and explore the Sao Vicente Fortress with your guide. In Lagos, take advantage of free time and enjoy the scenic marina and traditional cuisine (own expense).
Please see the Itinerary section below for details on each day of the tour.
Itinerary

Day 1: Lisbon – Évora
From Lisbon, relax on a comfortable coach as you head 85 miles (140 km) south to Évora, a UNESCO World Heritage-listed city full of culture, history and traditions. When you arrive, stroll around Évora's narrow streets, filled with whitewashed buildings, and enjoy guided tours of landmarks like the Roman Temple, the Romanesque-Gothic cathedral, the University of Évora and St Francis Church, home to the Chapel of Bones. Next, enjoy free time to visit the town's market and see traditional Portuguese food products and local handcrafts made with cork, ceramics and copper.

Enjoy free time for lunch at the market or at a local restaurant (own expense) and have the afternoon to yourself to explore this beautiful location at your own pace. For dinner, head to a bar or restaurant and try tapas of local cheese and olive oil with bread, accompanied with wine (own expense), before heading back to your hotel.

Accommodation: Hotel M'ar De AR or similar in Évora

Day 2: Évora – Beja – Silves – Alvor (B)
Enjoy breakfast at your hotel and get ready for an exciting day, during which you will cover 155 miles (250 km) of beautiful Portugal! Explore Évora at your leisure in the morning, have lunch at a local restaurant (own expense), and relax on your comfortable coach as you head south, stopping by the village of Beja, where you will see one of the highest towers of any Portuguese medieval castle.

Hear entertaining anecdotes of the region from your guide as you're driven through a small mountain range to the Algarve region. Admire the landscape filled with orange trees as you arrive in Silves, where you'll enjoy a short break to see the town's famous red sandstone castle with your guide. Hear interesting facts about the castle and learn how this village is heavily influenced by its cork industry past. Continue to the golden sands of the Algarve coast and take in views of Praia da Rocha beach in Portimao, before continuing to Alvor, where you will have dinner (own expense) and spend the night.

Accommodation: Hotel Alvor Village or similar in Alvor

Day 3: Alvor – Sagres – Lagos – Alvor (B)
Have breakfast at your hotel and prepare for a beautiful day covering 85 miles (140 km) of the Algarve region! Start with a stop in Ponta da Piedade and admire magnificent views over the Atlantic Ocean and cliffs sculpted by the sea. Continue to the fishing port of Sagres and enjoy a guided visit of the Sao Vicente Fortress, which once hosted the navigation school linked to Prince Henry the Navigator. Next, take in views of the dramatic red cliffs on the drive southwest to Cabo São Vicente, where you will stop briefly to see views of the Atlantic Ocean.

Visit Lagos, a cosmopolitan town with a lively marina and fishing port. Enjoy free time to explore this beautiful town at your own leisure and have lunch at one of the charming restaurants (own expense). Try cataplana (fish and shellfish cooked in a copper pan), and for dessert, marzipan, almond cakes or fig cakes. Next, relax on your coach on the way back to Alvor to enjoy the afternoon at your leisure. Relax by the beach, have dinner (own expense) and enjoy another night's rest at your hotel.

Accommodation: same hotel in Alvor

Day 4: Alvor – Setúbal – Lisbon (B)
Enjoy breakfast at your hotel before taking a last look of the Atlantic Ocean as you travel north along the Algarve coast back to Lisbon. Stop in Setúbal, a major port and industrial center on the north bank of the Sado estuary, and have lunch at a local restaurant (own expense). Relax on your comfortable coach and enjoy a scenic route over the Serra da Arrábida Natural Park and the Tróia Peninsula. Take in views of the Tagus River as you make your way to central Lisbon, where your tour will end.