Discover Oxford, Stratford-upon-Avon and the Cotswolds on a full-day tour from London with a Spanish-speaking guide! After enjoying a walking tour of the city of Oxford, seeing one of the oldest Universit's Colleges, on your way to Stratford-upon-Avon detour through the Cotswolds and admire the region's picture-perfect English countryside. While in Stratford-upon-Avon Learn about the life and legacy of the English playwright William Shakespeare. Explore the historical town with your guide, and then enjoy free time to visit Shakespeare's Birthplace or Holy Trinity Church, if you wish.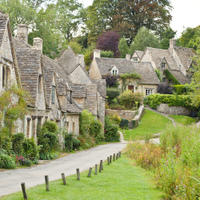 Leave London by luxury coach and head northwest out of the city, passing through the scenic English countryside. As you travel, your Spanish-speaking guide will talk through your day's itinerary, and after being on the road for just over an hour, you'll arrive in the city of Oxford.

Hop off your coach and stretch your legs on a leisurely-paced stroll with your guide, admiring the city's golden-colored buildings and 'dreaming spires.' Head inside one of Oxford University's oldest colleges and see the beautiful old chapels, dining room and quads.

After soaking up Oxford's oh-so English charm, return to your coach and continue your tour north to Stratford-upon-Avon, traveling through the Cotswolds' winding roads. From the comfort of your coach, sit back and relax, seeing the gorgeous hamlets, atmospheric churches and quintessentially English countryside for which the Cotswolds are so well known.

Stratford-upon-Avon is a handsome market town that's famous as the birthplace of William Shakespeare. On a walking tour, admire the town's pretty half-timbered houses that date back to Tudor times, and learn about Shakespeare's life in the town, hearing tales of his inspirations, muses, and, of course, his world-famous plays. You'll have free time to enjoy here after your tour, so perhaps visit Shakespeare's Birthplace to see the rooms where he grew up, or maybe pay a visit to his tomb in Holy Trinity Church. Entrance fees to both attractions are at your own expense.

Head back south to London, and then finish your tour in the early evening, at either Harrods or Oxford Street.