Feel like a movie star for the day as you explore the Warner Brothers studio lot and get a taste for LA celebrity culture on this 4 to 5-hour excursion. Explore the sprawling, 110-acre (44-hectare) back lot where famous films and TV shows including Friends, Batman, The Big Bang Theory and Argo were made. Then visit the current or one-time homes of celebrities like Halle Berry, Tom Cruise, Ozzy Osbourne, and check out landmarks like the Hollywood Sign, Chateau Marmont and Rodeo Drive. Round-trip hotel transport for morning tour participants is also covered.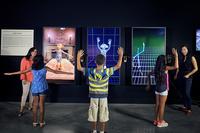 When you arrive at Warner Bros. Studio Tour Hollywood, your insider look into the world of movie-making magic begins when you hop aboard your tour cart and meet your knowledgeable tour guide. Then take off around the studio, listening to your tour guide's behind-the-scenes commentary and keeping your eyes open for stars — you never know who may walk by at any time.

You'll step into a sound stage where TV shows like The Big Bang Theory, Pretty Little Liars, Friends and The Ellen DeGeneres Show made their mark . See the backlots where movies like Batman, Casablanca, Argo and many more were filmed. Learn about how interior scenes are shot and how sets are torn down and rebuilt to create the proper scenes for various shows and films.

The latest exciting addition to Warner Bros. Studio Tour Hollywood is Stage 48: Script to Screen. This interactive soundstage explores key phases of the entertainment production process and offers an insider's look at how all your favorite shows are created. As you explore, you'll be able to design your own movie costume, take a screen test on the Central Perk set from Friends, race through the streets of Gotham on a Bat-pod, and much more! From script creation and casting to the wonders of green screen technology and the glory of awards season, Stage 48: Script to Screen is where all of Hollywood's best-kept secrets are finally revealed.

Your studio tour also includes entrance to the memorabilia-filled Warner Bros. Archive and The Picture Car Vault, where you can check out all the real Batmobiles used in all seven of the Batman films.

After the Warner Bros. Studio Tour Hollywood, the second part of your Hollywood experience — the 2-hour celebrity homes tour — takes place, chauffeuring you around the exclusive Los Angeles suburbs where movie stars live, shop and go out. Your small-group minibus allows you to visit neighborhoods that are off-limits to larger coaches so you can see as many unbelievable mansions as possible.

See houses that belong or used to belong to stars like Halle Berry, Tom Cruise, Madonna, David and Victoria Beckham, Ozzy Osbourne, Richard Gere, Lucille Ball and Frank Sinatra. Cruise down the Sunset Strip, enjoy a view of the Hollywood Sign, and pass by Hollywood hotspots like the Walk of Fame, Whiskey a Go Go, the Viper Room and Chateau Marmont. Stop by Rodeo Drive to see the designer stores and sparkling jewelry shops that outfit A-list actresses for awards shows, and zip by the Beverly Wilshire Hotel, featured in Pretty Woman.

By the end of your day tour, you'll be an expert in all things Hollywood and have plenty of stories to take back home to family and friends.