Visit two of central China's historical must-sees on a private, 8-hour tour from Luoyang. With a private guide, explore the UNESCO-listed Longmen Grottoes, a string of rock caves and niches containing thousands of Buddhist statues. After a lunch of regional dishes, stroll around the halls and pavilions of the White Horse Temple, considered the birthplace of Chinese Buddhism, as you learn its history. Tour includes entrance fees and hotel pickup and drop-off.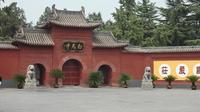 Meet your private guide and separate driver at your centrally located hotel in Luoyang City at about 8:30am. Then, hop inside your private, air-conditioned vehicle, and drive southward from the city.

As you travel, listen as your guide tells tales of Longmen, whose grottoes house the biggest collection of Chinese art from the late Northern Wei and Tang Dynasties, from between the 4th and 10th centuries. Situated on the banks of the River Yi, the caves number a staggering 2,100 and house crematory urns, inscribed stone tablets, and 100,000 Buddhist sculptures and images.

Head into the site, and enjoy a guided walk along the riverbanks to see the highlights, admiring the earliest niches with their simple Buddha statues, to the later and more richly carved caves, featuring rich depictions of Buddhas, court figures, and other decorative elements. Admire the lush scenery around the caves, and afterward, head to a local restaurant for a lunch of popular regional dishes.

Duly refreshed, continue with a drive to the White Horse Temple, founded in 68 AD, and held to be the first Buddhist temple in China. Backed by the Mangshan Mountain and overlooking the River Luohe, this ancient temple consists of ornate religious shrines holding images of Buddhist deities.

Soak in the spiritual atmosphere, and tour of the main areas, including halls, pavilions, and courtyards, as you learn about the temple's history and why it's regarded as the cradle of Chinese Buddhism.

Having explored here, relax on your return journey to Luoyang where your trip concludes with a hotel drop-off.