Visit the UNESCO-listed cities of Segovia and Avila on this day trip from Madrid. Travel from Madrid to Avila by air-conditioned coach, and admire the picturebook old town with its stunning 11th century walls. See Avila Cathedral and the Basilica of St Vincent, and then continue to the historical showstopper of Segovia. Behold its massive Roman aqueduct and explore its Gothic cathedral and fairy tale-like Alcazar fortress-palace. Upgrade to include a simple, tourist-style lunch or a gourmet feast of Segovian specialities with drinks to make your Madrid-to-Segovia-and-Avila adventure extra special.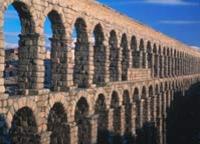 Choose your preferred tour option when you book. Then, on the day, depart Madrid by air-conditioned coach and relax as you travel toward your first stop, Avila.

On route, hear tales of this beautifully preserved medieval city, an important pilgrimage site for being the birthplace of the Spanish mystic, Saint Teresa, in the 16th century.

Stop at the viewpoint of the Four Posts (Cuatro Postes) to drink in sweeping views of the UNESCO-protected, old walled city. Admire the 11th-century walls and towers, and then explore two of the town's most impressive Romanesque and Gothic churches. Take in the fortress design and alabaster chapels of Avila Cathedral, and visit the Basilica of St Vincent, a sublime Romanesque church that houses the richly engraved tomb of the martyred saint.
Back aboard your coach, continue to Segovia, a history-steeped city with Roman roots, set between the Eresma and Clamores rivers.Head into the elegant center, and admire the stunning, two-tiered Roman aqueduct, one of the best preserved ancient monuments in all Spain.

Gaze in awe at the scale and symmetry of this engineering marvel, and learn how it was constructed without mortar during the 1st century AD, and consists of 166 arches and 120 pillars. Then, continue to the Alcazar, a spectacular 11th-century fortress-palace that was one of the inspirations behind the Walt Disney Cinderella castle.
Take a guided tour of the UNESCO-listed, 13th-century building as you hear how it served as a royal palace, prison and artillery college. Admire its distinctive turrets and courtyards, explore its artillery museum, and learn how Queen Isabella was crowned here in 1474.


Next, see some of old Segovia's other highlights, including Segovia Cathedral. The last Gothic cathedral to be built in Spain, this splendid church was finished in the 18th century and boasts a richly Gothic façade and unusually simple interior.

Take free time for lunch (own expense) during your explorations. Alternatively, upgrade to enjoy either a simple tourist-style meal or a delicious gastronomic feast showcasing Segovian delicacies such as roasted suckling pig — the choice is yours! See the Itinerary for sample menus.

After your time in Segovia, return to Madrid where your tour concludes at the start point.
Itinerary