Drink in the lush beauty of Maui's Hana Rainforest and northern shores from the air on a 75-minute helicopter flight, including a 30-minute landing. Glide over the jungle-clad north coast, passing beauty spots like the 'Jaws' surf break beach and Jurassic Rock. Then, land in an untouched spot in the verdant Wailua Valley, stepping out to explore the tropical vegetation and admire views over waterfalls and canyons before your return flight.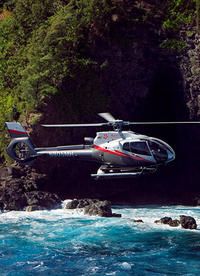 Book your selected flight time, travel independently to Maui's Kahului Airport, and check in for your flight. Then, meet your pilot and any other passengers — your ECO-130 helicopter carries a maximum of seven — before boarding.

Sit back into your comfortable seat, and after a safety briefing, ascend into the skies above Maui for your roughly 40-minute round-trip flight. Then, gaze through the windows and drink in the aerial views as your pilot provides live commentary on the sights and shares intriguing facts about the island's geology, nature and history.

Fly along Maui's northern coast, gazing down at rugged sea cliffs and waterfalls, swoop over beauty spots such as Paia, Hookipa, Haiku, and Pe'ahi, famous for its huge surfing break known as 'Jaws'.

Soar over the winding coastal route of the 'Road to Hana,' and capture photos of Keopuka Rock, nicknamed 'Jurassic Rock' for featuring in the opening credits of the 1993 movie, Jurassic Park.

Then, whirr over the dense jungle and descend into the Hana rainforest, touching down near a former taro (yam-like root vegetable) farm in the untouched Wailua Valley.

Here, hop out and enjoy 30 minutes to explore the paradise-like landscapes, awash with coconut trees, banana groves, and wildflowers, and commanding panoramic views over tumbling waterfalls and deep green canyons.

As you walk, listen as your pilot shares information about the area, learning how only a few people have walked here as its remains largely unexplored.

When it's time, board your helicopter and enjoy the return flight back to the heliport. Your trip then finishes when you disembark and bid farewell to your pilot.

Please note: The price listed excludes a $20 per person fuel surcharge, payable at the time of check-in. The fuel surcharge is required by our local supplier and is outside our control.