On this thrilling Maui night diving adventure, experience an entirely different world than you would while diving in the daytime, where lobsters, octopus, nudibranchs, and eels emerge from the inky black darkness. On this one-tank shore dive in West Maui, follow your expert dive instructor on an evening foray of the reef, searching for invertebrates and rarely seen critters attracted to the beam of your light. Since the dive is limited to only four divers, you're sure to have a personalized experience as you splash in the near-shore waters — sharing one of the most adventurous experiences you can find on Maui after dark.
Highlights
3-hour nighttime scuba diving tour off Maui's coast
See marine invertebrates like nudibranchs on the coral reef
Search for nocturnal sea life such as squid and octopus
Enjoy one-on-one attention from a dive guide in a small group of four
Dive lights and all dive gear are included
Why Our Insiders Chose This Tour
Once you try night diving with its nocturnal marine life, you may find daytime scuba diving too tame. Underwater photographers will have a great time getting up-close shots of these fascinating sea creatures.
What You Can Expect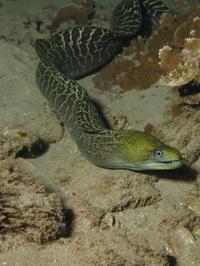 This Maui night dive begins when you meet your instructor, who will assist you in loading your gear departing from Mala Boat Ramp. From here, it's just a short swim to some of Maui's most popular spots for night diving, including Black Rock, Airport Beach, Honolua Bay, Canoe Beach or Mala Pier.
When you reach the dive spot, you'll start your night dive in shallow water just a couple of feet from the boat, before gradually descending 30-40 feet (9-12 meters) in search of nocturnal marine life. What makes a night dive in Maui so fascinating, is that unlike the sea turtles or schools of fish you'd expect to see during the day, you're instead met with a reef full of critters that only come out at night.
Watch as a nudibranch twists in the current — almost as if it were dancing — and search in the sand channels for lobster and crab as they forage in search of food. You might find an octopus writhing between rocks, or a squid squirting past your mask, and finding an eel out hunting for fish is always a night dive highlight.
Once comfortable back on board the boat, your instructor will detail and discuss the behavior of all the creatures you've seen, and since this Maui night dive is for certified divers, you're required to show certification.