Experience the excitement of Australian rules football, aka 'footy,' during a 4.5-hour AFL match at Etihad Stadium or Melbourne Cricket Ground (MCG). Your entrance ticket includes Premium reserved seating in one of the best spots in the house. Sit with a host who explains the rules of the unique Australian game and cheer with the crowds while you celebrate with meat pie and a complimentary drink.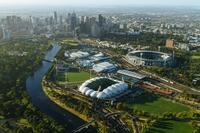 Anyone who has been to an unfamiliar sports game knows the benefit of having a local explain it to them. Your package includes meeting your host near the ground before the match, for a welcome drink. Your host will explain the rules and involve you in the game using competitions and prizes.

You will also receive a show bag of Aussie Rules goodies including a souvenir program, footy record and club song sheets plus sink your teeth into footy food, a meat pie and drink (beer or soft drink) at quarter time.
Cheer along with fans and absorb the atmosphere and excitement of this unique Australian experience that is AFL.
AFL season is played from March to August.
Itinerary
2016 AFL fixture:
Round 10 Saturday, May 28 St Kilda v Fremantle Etihad Stadium 4.35pm
Round 10 Saturday, May 28 Essendon v Richmond MCG 7.25pm
Round 10 Sunday, May 29 Carlton v Geelong Cats Etihad Stadium 1.10pm
Round 10 Sunday, May 29 Collingwood v Western Bulldogs MCG 3.20pm
Round 11 Saturday, June 04 Hawthorn v Melbourne MCG 1.45pm
Round 11 Saturday, June 04 Carlton v Brisbane Lions Etihad Stadium 2.10pm
Round 11 Sunday, June 05 Collingwood v Port Adelaide MCG 1.10pm
Round 11 Sunday, June 05 Western Bulldogs v West Coast Eagles Etihad Stadium 3.20pm
Round 12 Friday, June 10 Essendon v Hawthorn Etihad Stadium 7.50pm
Round 12 Monday, June 13 Melbourne v Collingwood MCG 3.20pm
Round 12 Saturday, June 11 Geelong Cats v North Melbourne Etihad Stadium 7.25pm
Round 12 Sunday, June 12 St Kilda v Carlton Etihad Stadium 1.10pm
Round 12 Sunday, June 12 Richmond v Gold Coast Suns MCG 3.20pm
Round 13 Friday, June 17 North Melbourne v Hawthorn Etihad Stadium 7.50pm
Round 13 Saturday, June 18 Western Bulldogs v Geelong Cats Etihad Stadium 7.25pm
Round 13 Sunday, June 19 Essendon v GWS Giants Etihad Stadium 4.40pm
Round 14 Friday, June 24 Collingwood v Fremantle MCG 7.50pm
Round 14 Saturday, June 25 Richmond v Brisbane Lions MCG 1.40pm
Round 14 Saturday, June 25 St Kilda v Geelong Cats Etihad Stadium 7.25pm
Round 15 Saturday, July 02 Carlton v Collingwood MCG 7.25pm
Round 15 Sunday, July 03 Melbourne v Adelaide Crows MCG 3.20pm
Round 16 Saturday, July 09 Western Bulldogs v Richmond Etihad Stadium 7.25pm
Round 16 Sunday, July 10 Carlton v Adelaide Crows MCG 1.10pm
Round 16 Sunday, July 10 Essendon v St Kilda Etihad Stadium 4.40pm
Round 17 Saturday, July 16 Richmond v Essendon MCG 1.40pm
Round 17 Saturday, July 16 North Melbourne v Port Adelaide Etihad Stadium 4.35pm
Round 17 Sunday, July 17 Carlton v West Coast Eagles MCG 1.10pm
Round 17 Sunday, July 17 St Kilda v Melbourne Etihad Stadium 3.20pm
Round 18 Friday, July 22 Collingwood v North Melbourne Etihad Stadium 7.50pm
Round 18 Saturday, July 23 Western Bulldogs v St Kilda Etihad Stadium 7.25pm
Round 18 Sunday, July 24 Essendon v Brisbane Lions Etihad Stadium 1.10pm
Round 18 Sunday, July 24 Hawthorn v Richmond MCG 3.20pm
Round 19 Saturday, July 30 Collingwood v West Coast Eagles MCG 4.35pm
Round 19 Saturday, July 30 North Melbourne v St Kilda Etihad Stadium 7.25pm
Round 19 Sunday, July 31 Melbourne v Gold Coast Suns MCG 1.10pm
Round 20 Friday, August 05 Richmond v Collingwood MCG 7.50pm
Round 20 Saturday, August 06 Melbourne v Hawthorn MCG 2.10pm
Round 20 Saturday, August 06 Western Bulldogs v North Melbourne Etihad Stadium 7.25pm
Round 20 Sunday, August 07 Carlton v St Kilda MCG 1.10pm
Round 20 Sunday, August 07 Geelong Cats v Essendon Etihad Stadium 3.20pm
Round 21 Friday, August 12 Western Bulldogs v Collingwood Etihad Stadium 7.50pm
Round 21 Saturday, August 13 Hawthorn v North Melbourne MCG 2.10pm
Round 21 Saturday, August 13 St Kilda v Sydney Swans Etihad Stadium 7.25pm
Round 21 Sunday, August 14 Essendon v Gold Coast Suns Etihad Stadium 1.10pm
Round 21 Sunday, August 14 Richmond v Geelong Cats MCG 3.20pm
Round 22 Saturday, August 20 Richmond v St Kilda MCG 2.10pm
Round 22 Saturday, August 20 Collingwood v Gold Coast Suns Etihad Stadium 7.25pm
Round 22 Sunday, August 21 Carlton v Melbourne MCG 1.10pm
Round 22 Sunday, August 21 Essendon v Western Bulldogs Etihad Stadium 4.40pm
Round 23 Saturday, August 27 St Kilda v Brisbane Lions Etihad Stadium TBC
Round 23 Saturday, August 27 North Melbourne v GWS Giants Etihad Stadium TBC
Round 23 Saturday, August 27 Hawthorn v Collingwood MCG TBC
Round 23 Saturday, August 27 Essendon v Carlton MCG TBC