Get the inside scoop on Melbourne's renowned foodie scene with this 3-hour small group food and wine walking tour. Meet top chefs and expert sommeliers as you visit three of Melbourne's mort renowned restaurants and tuck into special menu tasters, delicious seasonal delicacies and carefully selected wines. You'll even get a map and dining guide to take away with you, so you'll be all set for the rest of your stay.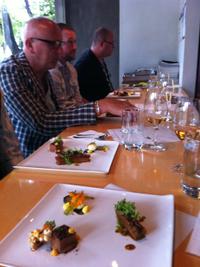 Melbourne's love of food and wine has given rise to expert wine-makers and celebrity chefs who have made the city the culinary capital of Australia. While you're there, don't miss this chance to experience the Melbourne food scene at its finest.

Whet your appetite with an early evening walk three local restaurants with your guide. You'll visit. Meet the sommelier, who will present you with three flights (samples) of his or her favorite wines from the wine list and talk you through the tasting. Small plates will be prepared by the chef to complement the wines.

Enjoy and repeat at two more local restaurants! Each restaurant is within an approximate 15-minute walk from the other and are special for the food and aesthetic – they are truly fantastic places to spend an evening in Melbourne!