Soar over the Yarra Valley wine region in your very own private hot air balloon and watch the sunrise over the patchwork of vineyards and orchards below. After taking to the skies for your romantic dawn flight, celebrate your safe landing with a decadent Champagne breakfast at the Rochford winery.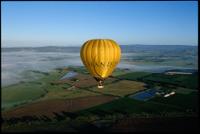 For a truly luxurious experience from Melbourne, take this private hot-air balloon flight for two over the Yarra Valley. Watch or lend a hand as the balloon inflates, and then climb into the basket and prepare for take-off. Listen to the sound of the burners igniting and feel the excitement as the basket starts to rise, taking you higher and higher into the air.

Enjoy a glass of Champagne as your balloon drifts with the wind (for approximately one hour) over the Yarra Valley. The pastoral scenery is breathtaking in the early morning light, making for fantastic photo opportunities. When your flight ends and the balloon is packed away, celebrate your morning with a delicious Champagne breakfast at Rochford Wines, a popular Yarra Valley winery.

Please note: Flight path is dependent upon weather and wind conditions. Champagne in the balloon is allowed at the discretion of the pilot.