Experience the wild wonders of Jungle Island, Miami's fun-filled zoological park. Spend hours exploring vibrant habitat displays like Parrot Cove, Kangaroo Konnection and Orangutan School, and take in a dynamic animal show like Winged Wonders, featuring some of the world's most dangerous birds. Don't leave without visiting the Vulcan, the regal 900-pound resident liger!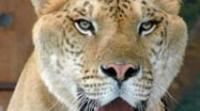 Indulge your fascination with jungle creatures on this self-guided park visit. With your pre-purchased ticket, make your own way to Jungle Island, located in Biscayne Bay. Upon arrival, plot you perfect itinerary through the 22-acre park. With more than 30 eye-catching displays, hundreds of animals and several live shows, a little planning ensures a great experience!

Maybe start at lovely Flamingo Lake, where you'll get great views of this signature Florida bird. Stroll through the lush park, lined with tropical plants and flowers, to check out birds from across the globe. Stop by Manu Encounter to see more than 200 parrots and macaws perching on simulated Peruvian cliffs, or to Parrot Bowl for an amazing show featuring parrots, cockatoos and an Andean condor.
Next, delve into the realistic Everglades Habitat, full of native plants and animals that you might see in the region's wild 'river of grass'. Pass by the Jungle Theater to meet Vulcan — a 900-pound liger! — and the Serpentarium for some encounters of the slithering kind.
Itinerary