Get away from the bustle of Miami Beach for an hour or two and enjoy a relaxing paddleboarding excursion. With this flexible rental, design your ideal outing and explore Miami's turquoise waters at your own pace. With morning and afternoon rental options, you can choose when to hit the water to practice your paddle surfing skills and get a low-key workout. No prior experience required!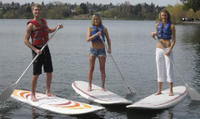 On the white sands of Miami Beach, you will begin with a brief introduction to stand-up paddleboarding (also known as stand-up paddle surfing)and then you'll have the rest of the time to paddleboard on your own.

Paddleboarding can be tricky, but after a few attempts you will soon be rippin' the waves. Once you have your balance, you'll realize that stand-up paddling is a very pleasant way to hang out in the water.

Stand-up paddleboarding is much less demanding than regular surfing, but is just as much fun and something you can enjoy with your family.