See the highlights of Liguria on this action-packed 4-day tour of the coastal region in northwest Italy. Leave Milan and head to Genoa, which will be your base for the four days of the tour. After checking in to your 4-star hotel in Genoa, head west to charming San Remo, taking some time to explore the under-rated city. Then spend sometime on the other side of Liguria, complete with the cliff-clinging towns of UNESCO-listed Cinque Terre. Participants are limited to 25 people on this tour, ensuring plenty of personalized attention from your guide.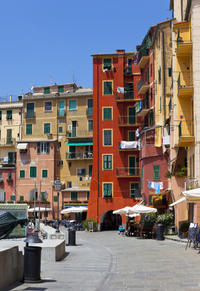 Start your 4-day tour of Liguria by traveling west along the Riviera di Ponente. Along the rugged coastline pass by the charming seaside towns of Cervo and Imperia on your way to San Remo. Explore the town of San Remo, taking in its 19th-century casino as well as the medieval warren of streets known as the Pigna neighborhood, an intriguing honeycomb of covered hilly streets and nook-like shops and houses.
Liguria is best described as having two arms with Genoa as the head. Each side of the riviera branches out, Riviera de Ponente to the west and Riviera di Levante to the south-east toward Tuscany. Both sides offer sandy beaches, broken up by sometimes rugged coastline, and chic seaside towns. This 4-day tour uses Genoa as your base as you explore both sides of Liguria.
Next travel to the Riviera di Levante with its famous UNESCO World Heritage-listed Cinque Terre, five bucolic cliff-clinging villages along the sea, some of which are only accessible by boat or on foot. Visit erstwhile fishing villages that are now chic resort towns, such as Portovenere, Camogli, Portofino and Santa Margherita Ligure.
Please note: The listed price does not include a city tax, payable at the time of hotel check-in. The tax is required by the hotels and is not within our control.
Hotels are subject to availability at time of booking. In the rare event that the mentioned hotel is unavailable, you will be accommodated in another centrally located hotel of the same star rating.
During Salone Nautico Boat Show Event that takes place in October (dates are not confirmed yet) overnight will be in the East Riviera of Rapallo or Santa Margherita Ligure instead of Genova (Genoa).

Itinerary
Day 1: Milan – Genoa (B)
Leave Milan in the morning, and travel west to the city of Genoa in Liguria. The birth town of explorer Sir Christopher Columbus, the city has a rich maritime history, and you'll learn about its past on a tour of the Ancient Port of Genoa. Explore the port's 'modern zone,' seeing sights like the glitzy Spinola Wharf as well as one of Europe's largest aquariums (entrance own expense).

Enjoy some free time for lunch, and then check in to your hotel where you can enjoy dinner, if you wish.

Overnight: 4-star Hotel Moderno Verdi in Genoa

Day 2: Genoa – San Remo – Genoa (B)
After breakfast, travel west along the north Italian coast to the elegant old seaside town of San Remo. Known for being the host of the annual Italian Song Festival, San Remo is a melting pot of both French and Italian culture, due to its close proximity to France. Take a stroll down the promenade or browse the boutiques near San Remo Casino.

After some free time for lunch (own expense), travel back to Genoa, passing along the pretty Riviera di Ponente – a stretch of coastline with glorious sandy beaches and shabby chic coastal towns. Finish your excursion with a drop-off at your hotel, and spend your evening at leisure.

Overnight: 4-star Hotel Moderno Verdi in Genoa

Day 3: Genoa – Portovenere – Cinque Terre – Genoa (B)
Enjoy breakfast, and then head out to Portovenere, a quaint fishing village just south of the Bay of La Spezia. Make the most of your free time in the town, perhaps taking a walk down along the water's edge, admiring the candy-colored pastel houses on one side of you, and colorful fishing boats bobbing on the other.

Meet your guide and hop aboard your ferry to travel to the Cinque Terre, a UNESCO-listed stretch of coastline that's home to five picture-perfect fishing villages etched along the cliff face. On board you will pass Riomaggiore and Manarola. Dock in the town of Vernazza, and then explore at leisure. Either stay in idyllic Vernazza, or hop between villages using the local trains, at your own expense. Each Cinque Terre village has plenty of cafes and alfresco restaurants that are perfect for a relaxed lunch.

Return to your ferry at a pre-arranged time and cruise back to Monterosso. Board the train that will take you to Levanto and then swap to a coach to head back to Genoa, and spend the remainder of your evening doing whatever you please.

Overnight: 4-star Hotel Moderno Verdi in Genoa

Day 4: Genoa – Camogli – Portofino – Santa Margherita Ligure – Milan (B)
Check out of your Genoa hotel after breakfast and travel south to the coastal town of Camogli. The handsome little town has long been a favorite vacation spot for Italians with sandy beaches and elegant architecture, typical of the old-school Liguarian towns.

After enjoying free time to look around and soak up the sights, continue south to the chic seaside resort of Portofino. Favored by Italy's rich and famous, Portofino is the ideal place to people spot or simply soak up the scenery. Stroll around the harbor or maybe visit Castello Brown (own expense), the city's 16th-century castle.

Just across the gulf is Santa Margherita Ligure, a coastal town where the waters are frequented by dolphins. Enjoy some free time for lunch at one of the town's renowned seafood restaurants, overlooking the bay, and then return to the coach for your journey back to Milan.

Your 4-day tour then finishes at the start point in central Milan.