Go island hopping around the sun-baked Cyclades archipelago on this 7-night cruise, which departs from Mykonos and concludes on Santorini. This independent sailing adventure gives you the opportunity to explore some of Greece's most postcard-perfect islands while pitching in and helping the crew. Spend your days swimming, sightseeing or relaxing on deck, then dock each night on Mykonos, Amorgos, Naxos, Ios, Santorini and one of the Cyclades' smaller islets. Cabin accommodation and daily breakfasts and lunches are included. This small-group cruise is limited to just nine participants.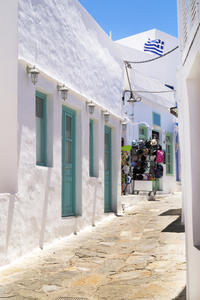 Your 7-night sailing adventure cruises south through the Cyclades islands, docking each night so that you can enjoy the nightlife, if you wish. Travel and sleep each night on board a comfortable yacht; it's small and intimate with just five cabins and three shared bathrooms that are also used by the crew.

The tour is a sailing adventure, so an emphasis is put on pitching in and helping the crew. No experience is necessary, just a desire to participate and help out with anything from clearing tables after meals to assisting out on deck. Breakfasts and simple lunches are included on board, but evening meals are taken in town at your own expense. Once on the islands, how you spend your time is up to you; all activities and excursions are payable at your own expense. Prearranged excursions are on offer on Mykonos and Naxos, should you wish to do them, and your crew will happily offer tips for places to see each day.
Itinerary
Day 1: Mykonos
Board your yacht in the early afternoon and meet your crew and fellow passengers during a welcome meeting to learn about the finer details of your itinerary. How you spend the rest of your afternoon and evening is then up to you. Perhaps take a walk to admire Mykonos' chic whitewashed architecture with sights such as the Church of Panagia Paraportiani or take a day trip (own expense) to the sacred island of Delos, the alleged birthplace of Apollo and Artemis. Later on, make the most of a night in port and check out the island's hedonistic bars and lively restaurants; Mykonos nightlife is legendary.

Overnight: boat docked at Mykonos Port

Day 2: Mykonos – Naxos (B, L)
Sail away from port in the early morning, and then stop to enjoy breakfast and a swim at the Bay of Gaidharos, a popular local beauty spot. From there, continue south to the island of Naxos, where more sandy beaches and olive grove-framed villages await. The largest of Greece's Cycladic islands, Naxos has a colourful mythological history, with many considering it to be the place where Zeus hid from his destructive father.

Dock at the port, enjoy lunch on board, and then spend the rest of your day doing whatever you please. Maybe explore Naxos' scenic Old Town, or wander along the southern shores of the island and scout out the best beaches.

Overnight: boat docked at Naxos Port

Day 3: Naxos (B, L)
After breakfast, enjoy a full day of free time to get to know the island. Naxos has plenty to offer besides its beautiful beaches, so perhaps take a stroll to the impressive Venetian Castro of Naxos to wander around the medieval mansions, monuments and churches that are etched into the hillside. Pay a visit to the Archaeological Museum of Naxos for an insight into island life thousands of years ago and see a white marble figurine that's said to be the earliest example of sculpture in Greece.

If you want to experience more of Naxos' culture, join a day trip around the island to visit one of the oldest temples in Greece – the Temple of Demetra – and spend time at a family-run tavern in the hills. The excursion also includes a shot of kitron, the local lemon liquor, plus a walk along one of the finest beaches on the island.

Overnight: boat docked at Naxos Port

Day 4: Naxos – Small Cyclades Island (B, L)
Feel the wind in your hair as you set sail from Naxos after breakfast, and set off to discover some of the smaller islands that comprise the Cyclades chain. After roughly five hours at sea, moor up at one of the unspoiled, almost-uninhabited islands – perhaps Koufonisia, Iraklia, Shinousa or Donousa – and make the most of the island seclusion by swimming in the clear waters, sunbathing on the beaches or enjoying fresh seafood in a waterfront taverna.

Overnight: boat docked at a small Cyclades island

Day 5: Small Cyclade Island – Amorgos (B, L)
Enjoy breakfast as you sail southeast to the mountainous island of Amorgos, an idyll immortalized in Luc Bresson's 1988 film, The Big Blue. With impressive history to equal its rugged beauty, the island was ravaged by pirates in the Middle Ages before being ruled in succession by the Venetians, Byzantines, Ottomans and, finally, the Greeks.

Dock at Katapola Port, and head out to discover Amorgos's delights at leisure. Take a stroll to an ancient Minoan settlement or relax in a waterfront cafe and gaze out at the white Cycladic architecture and windmills that dot the coastline. In the afternoon, enjoy a drive out to Moni Hozoviotissis, an 11th-century monastery stacked into the cliffs overlooking the sea. Browse its collections of historical artifacts and soak up views of the Aegean Sea.

Overnight: boat docked at Katapola Port, Amorgos

Day 6: Amorgos – Ios (B, L)
Leave Amorgos after breakfast and sail west to Ios, a large and lively island that's popular with holidaying Greeks who come for watersports, bars and an abundance of beaches. Follow the sunbathing masses to Gialos or Milopotas, escape the crowds at Valmas or Tsemaria or explore the shops at Chora – the island's pretty Old Town. In the evening, visit one of Ios' many beach bars or take a stroll up the hill to Panagia Gremiotissa, a popular spot to see the sunset.

Overnight: boat docked at Ios Port

Day 7: Ios – Santorini (B, L)
Enjoy breakfast on board while cruising to Santorini, the most famous island in the Cyclades archipelago. Renowned for its beauty, Santorini also boasts a vibrant capital town (Fira) and several rustic wineries dotted around its sleepy hills. After docking at the port, either explore Fira at leisure, seeing the glorious Dominican Covent and other attractions, or bask on the island's dramatic black-sand beaches such as Perissa or Agios Georgios.

The volcanic island is home to a plethora of upmarket restaurants as well as classy bars and nightclubs, so make the most of your last night in the Greek islands and spend it out on the town.

Overnight: boat docked at Santorini Port

Day 8: Santorini (B)
Sit down for a final breakfast on board your yacht, and then say goodbye to your crew and fellow passengers as your 7-night cruise finishes.