Immerse yourself in Nairobi's vibrant neighborhoods on a 5-hour walking tour of the city, enjoy a traditional Kenyan lunch in a local restaurant and get a glimpse of daily life in Kenya's capital. Stroll through the shady paths of Uhuru Park with your local guide, then walk past parliament buildings and the poignant tomb of the country's first president. Discover Kenya's rich artistic traditions and regional handicrafts at the National Archives and finish your tour with a classic Kenyan meal at a nearby restaurant.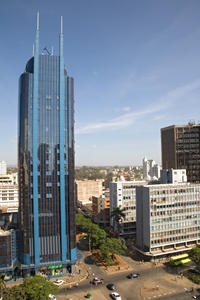 Meet your guide in the center of town, and take to the streets of Nairobi to explore and see the sights. First stop is Uhuru Park, a lovely oasis of green space wedged next to the city's bustling business district. Shelter from the city heat with a walk in the shade as your guide regales you with tales of Nairobi's complex history and culture.

Then, head out to discover the city's urban delights by both foot and public transport. Stroll past the Kenyan parliament buildings and stop to see Mzee Jomo Kenyatta Mausoleum, the resting place of Kenya's first president. Pose for photos against the backdrop of Kenyetta International Conference Center – an impressive 28-story skyscraper – and then visit the August 7 Memorial Park, built to commemorate the bombing of the US Embassy in 1998.

Another highlight of your tour is a visit to Kenya National Archives – a site that's a history museum in its own right. Browse the array of historical photographs, traditional artwork and Kenyan crafts while learning about the tribes of Kenya from your guide.

Stop for lunch at a traditional restaurant in town, and enjoy a Kenyan delicacy as a main course. The menu varies each time, but typical dishes include Kenyan stew (casseroled beef, goat or chicken) and ugali (a creamy cornmeal paste) served with vegetables and a rich sauce.

After chatting with your guide about city life and Kenyan cuisine, walk back to the start point to finish your tour.