See the sights of Nanjing, formerly the capital of China, on this 8-hour private tour. With a guide, you'll visit some of the city's top cultural and historical attractions, including Zhonghua Gate, the Chaotian Gong, the Confucian Temple Area (Fuzi Miao), and Sun Yatsen Mausoleum (Zhongshan Ling). Plus, take a cruise along the Qinhuai River. Lunch is included.
Highlights
8-hour Nanjing sightseeing tour
Visit Chaotian Gong and the Confucian Temple
See the tomb of the Republic of China's first president at the Sun Yatsen Mausoleum
Cruise along the Qinhuai River to take in waterfront scenery
Lunch included
What You Can Expect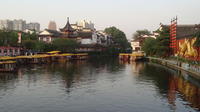 After hotel pickup in the morning by your guide, your tour starts with a visit to your first attraction, Chaotian Gong, once a palace of the Ming dynasty. 

The buildings you'll see here built in the 19th century, as the older structure burned down; today it's a museum home to a collection that includes fragments of a porcelain pagoda, a 15th-century monument destroyed during the Taiping Rebellion.

Next, head to Zhonghua Gate, aka the Gate of China, part of one of the most complex castle systems in the world. This cultural relic is the biggest castle-style city gate in China and holds an important place in the country's military history. After your time here, visit a local restaurant for lunch before continuing your tour in the afternoon to the Confucian Temple Area (Fuzi Miao), originally built in 1034 during the Song dynasty. 

Then head to the water for a cruise along the Qinhuai River, a branch of the Yangtze River, before finishing your exploration of Nanjing with a visit to Sun Yatsen Mausoleum (Zhongshan Ling), located at the foot of the second peak of Mt. Zijin. Here lie the remains of Sun Yatsen, a revolutionary, among other things, who fought against the Qing dynasty in the early 1900s and is considered the 'Father of the Nation.' He was the first president of the Republic of China.

Your tour then ends with return to downtown Nanjing for hotel drop-off.