Take a two-wheeled adventure through Northern California's famous wine country on a bike tour of Napa or Sonoma. Choose from three different winemaking regions, and hop on a hybrid bike to pedal through scenic vineyards and orchards. Soak up the magnificent scenery on the leisurely ride, and stop in at several wineries to taste top-rated regional varietals. Learn about the area's history and wines from your guide, and enjoy a gourmet lunch along the way.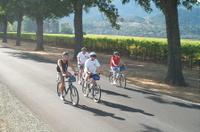 Soak up some Northern California sunshine and fresh country air while tasting excellent wines on this fun and athletic bike tour of Napa or Sonoma Valley. Take your pick from three different wine country regions — Carneros, Calistoga or Healdsburg — each boasting a unique character and specialty varietals.
No matter which tour you choose, enjoy pedaling down country lanes and past historic vineyards on a unique itinerary created just for cyclists. Visit several local wineries for tastings and enjoy a gourmet picnic lunch. The leisurely pace of a bike ride allows you to be truly immersed in the gorgeous scenery and stop along the way for breaks and photos.
See Itinerary below for complete tour details of each location.
Itinerary
Carneros Sip 'n' Cycle Bike Tour
The Carneros region in Napa Valley is known for its small-batch, family-owned wineries, which are comparable to that of Burgundy, France. You will begin in Carneros and visit 1-2 wineries along the mostly flat biking terrain. This leisurely route is made up of beautiful, lush vineyards, and nature welcomes you with open arms. Keep an eye out for the local wildlife while you enjoy a Wine Country picnic lunch at a magnificent winery with a lovely view. After your final wine tasting, you will bike back to Carneros.

Calistoga Sip 'n' Cycle Bike Tour
Take an off-the-beaten-path bike tour of the quaint resort town of Calistoga, located in upper Napa Valley. As you travel 10 to 17 miles (16 to 27 km) along country lanes, you'll take in the Palisades Mountains on one side and the grape vines on the other side. Enjoy tastings at approximately three wineries, along with your rest stop for a scenic picnic lunch. The winery where you'll stop for lunch contains an extensive collection of artwork and antiques, and you can admire the wares before hopping back on your bike and heading to your final wine tasting, then back to Calistoga.

Healdsburg Sip 'n' Cycle Bike Tour
This is your chance for a tour of Sonoma County, known for its white wine varietals and spicy reds. On this moderate bike tour, you will ride approximately 18-20 miles (29 to 32 km) in picturesque Dry Creek Valley, home to the town of Healdsburg. Many wineries and fun shops reside in Healdsburg, and you will have the opportunity to have a few wine tastings before your lunch stop at a charming winery. After lunch and maybe a game of bocce ball, you will be off to 1-2 more wineries, and then your trip will conclude in Healdsburg Plaza. Make a complete day of it and shop the boutiques, browse the antique stores and visit local art galleries, all within walking distance.