Discover a private island and perfect beaches on a 4.5-hour day trip from Nassau, and escape the city for white sand, swaying palms and an elegant resort. Swim in warm, clear water and soak up the sun, book a poolside cabana or sip drinks at a tropical bar. Take in the Bahamas' unspoiled serenity as you experience an idyllic private beach retreat.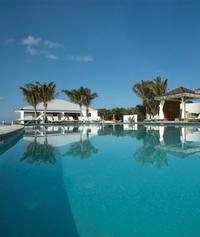 Your beach day starts with the 30-minute ferry ride to a private island, less than a mile off the Nassau coast.

When you arrive, you are free to spend your time however you wish. Grab a provided beach chair and umbrella, go swimming in the calm aquamarine water or float just off the beach with a noodle. With sugar-white sand, swaying palm trees and crisp white chairs and structures, the beach on the island provides a chic setting away from the hustle and bustle of Nassau.

If you're not the saltwater type, take a dip any of the two beachfront pools instead, or rent a poolside cabana for a little luxury. When you get hungry or thirsty, check out the market and various bars, where you can sip frozen tropical cocktails, munch on snacks, salads and sandwiches, or get your caffeine fix at Starbucks. Escape from the sun on a shaded patio when your skin turns pink.

In the mid-afternoon, re-board the ferry for the return ride to Nassau.