This full-day private tour allows you to cycle through the Blue Mountains. With pickup from Negril or the Grand Palladium resort, you'll make the scenic drive in a private vehicle to a drop location in the mountains. Pedal about 12 miles (19 km) mostly downhill, stopping to cool off with a swim under a local waterfall. Breakfast, lunch, and all cycling equipment are included.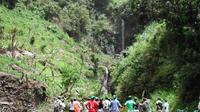 Your day of biking adventure begins when your dedicated guide meets you in your hotel lobby in the very early hours of the morning. When booking, select departure from Negril or Grand Palladium. 

Climb into your private vehicle and settle in for the ride to the Blue Mountains. As you travel, you'll listen to your guide give an introduction to the location and landscape, as well as some Jamaican history. Watch out the window as the sun rises over the northern coastline, making stops on the way for photos. 

When you reach Buff Bay, you'll head up into the mountains, past several small villages and local waterfalls. When you reach 5,000 feet (1,524 meters), fill up with a traditional Jamaican breakfast of steamed cabbage, fried dumplings, saltfish, and ackee fruit. For some extra power, sip the famous local Jamaican Blue Mountain coffee. 

Continue on to your drop point at 6,000 feet (1,829 meters), where you'll clip into your helmet and hop onto your bike. The pedaling is easy and mostly downhill, leaving you plenty of time to watch the surroundings pass by. Your dedicated guide will be with you the whole time, and you'll stop for lunch midway through the day. Stop at a coffee plantation to see how the famous Blue Mountain coffee is made, and jump in for a swim at Mountain Dew waterfall. 

Head back to Grand Palladium or Negril for drop-off at the end of the day.