Behold the Taj Mahal and three other architectural wonders on this 2-day private Agra tour from Delhi, with accommodation included. Head for bustling Agra to visit Agra Fort and the UNESCO-protected Taj Mahal: the magnificent mausoleum commissioned by Emperor Shah Jahan in 1632 for his wife. Visit another Mughal masterpiece, Akbar's Tomb, and finish with a tour of Fatehpur Sikri, the abandoned 16th-century Mughal capital, and its mosque, Jama Masjid. Overnight accommodation, some meals, and round-trip private transport are included, making this one of the best-value Agra tours available.
Why Our Insiders Chose This Tour
Your guide is committed to minimizing our carbon footprint. For every tour, they pay a fee out of pocket to offset the carbon emissions created by the transportation used on this tour. Those funds go to organizations working toward a greener future.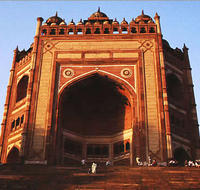 Experience the cream of India's artistic and cultural heritage on this 2-day tour to some of the country's greatest historical and architectural gems. Leave the city sights and bustle of Delhi behind and head straight to Agra — home to the world's greatest monument to love, the 17th-century marble mausoleum that is the Taj Mahal. 

Witness this stupendous building and while you're in Agra, pay a visit another UNESCO-listed treasure, Agra Fort. Then, after an overnight stay in the city, visit Fatehpur Sikri, the abandoned 16th-century capital city of the Mughal Empire, before driving back to Delhi where your tour ends.

Your private trip includes guided tours of the Taj Mahal, Agra Fort, Akbar's Tomb and Fatehpur Sikri; overnight accommodation at your choice of a 5-star plus, 5-, 4- or 3-star hotel in Agra; transport in a private air-conditioned minivan, SUV or car (depending on your group size); and select meals.
Itinerary
Day 1: Delhi – Agra (L, D)
On this 2-day tour, experience India's cultural and artistic heritage on visits to several of the country's significant architectural sites. Early-morning private pickup in Delhi will take you approximately four hours to the city of Agra by the banks of the Yamuna River. Stop at Sikandra and take guided tour of Akbar's Tomb, a mausoleum built for the third emperor of the Mughal Empire, Akbar the Great. Marvel at the structure's perfect blend of Hindu, Christian, Islamic, Buddhist and Jain designs and motifs.

Head to the hotel for check-in before visiting Agra Fort, a 16th-century red-sandstone fortress. Explore this UNESCO World Heritage Site with your guide to see its remarkable palaces, embellished chambers and marvelous mosques, like the Pearl Mosque.

Enjoy traditional Indian cuisine at lunch in a popular restaurant chosen by your guide before driving 10 minutes to reach the Taj Mahal, one of India's most-renowned monuments. On a guided tour, discover why archaeologists all over the world consider this one of the finest examples of Mughal architecture. Spend the rest of your afternoon in Meena Bazaar, a large shopping paradise where you will find vendors selling quality craft items, jewelry, marble figurines and more (purchases are at customer's own expense). End the night with a relaxing dinner at your hotel.

Overnight: 3-, 4-, or 5-star hotel in Agra

Day 2: Agra – Delhi (B)
After breakfast on your second day, visit Fatehpur Sikri (the City of Victory), which was the capital of the Mughal Empire for about 10 years. Walk around inside the inner citadel of the city with your guide and see some of its finest monuments including Panch Mahal, Buland Darwaza and Jama Masjid -- one of India's largest mosques.

On the way back to Delhi, you may stop for lunch at a popular restaurant at your guide's suggestion (own expense)