Spend four days taking in the highlights of India's Golden Triangle on this epic whirlwind tour through the cities of Delhi, Agra and Jaipur. Get an up close look at India Gate and Raj Ghat as you explore the back streets of Delhi with your friendly, local guide. Then travel in the air-conditioned comfort of your own private vehicle through the ruins of the Mughal Empire as your guide explains their historical and architectural significance. Visit UNESCO World Heritage Sites like the Taj Mahal and Fatehpur Sikri in Agra and experience the once-in-a-lifetime thrill of riding an elephant as you make your way to the Amber Fort. Gain insider's access to Jaipur's royal history on a trip to the City Palace and revel in the luxury of 5-star hotel accommodations with complimentary breakfast buffets as part of this multi-day New Delhi tour.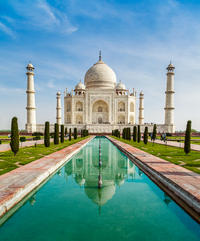 Revel in the wonders of India on a 4-night private Golden Triangle tour through the cities of Delhi, Agra and Jaipur from New Delhi. Follow your friendly local guide on a fun and informative adventure that highlights the history, architecture, culture and traditions of some of India's most populous and fascinating cities. 

This private tour includes pickup and drop-off at your Delhi hotel or Indira Gandhi International Airport, as well as transportation in a comfortable, private, air-conditioned vehicle. Enjoy luxury 5-star accommodations and full buffet breakfasts as part of the tour, and your knowledgeable guide will happily recommend local restaurants for lunch and dinner (at own expense).
Itinerary
Itinerary

Day 1: Delhi
If you're in Delhi or on your way, a friendly driver will pick you up from your hotel or the airport. Ride in air-conditioned comfort to WelcomeHotel Dwarka or Oberoi Maidens Hotel for check in. If you're traveling via Indira Gandhi International Airport, a representative will meet you just outside the arrivals terminal. Enjoy the day at your leisure, relaxing or exploring the city, before your trip begins the next day.

Overnight: WelcomeHotelDwarka or Oberoi Maidens in Delhi

Day 2: Delhi—Agra (B)
Enjoy a savory breakfast and strong coffee or tea before meeting your guide for a private tour of Old and New Delhi. Visit Raj Ghat, a famous memorial commemorating the cremation of Mahatma Gandhi. Pass the famous Red Fort and make a stop at Jama Masjid, one of the largest mosques in all of Asia. Some 5,000 builders constructed this impressive religious structure designed by the Mughal Emperor, Shah Jahan, in the mid-1600s. 

Once you've explored the mosque, travel in air-conditioned comfort past India Gate. This monument pays homage to fallen soldiers of World War I. Listen as your guide shares historical trivia and fascinating stories about this iconic landmark. Travel along Rajpath (King's Way) to Rashtrapati Bhava, where you'll see parliament, the presidential residence and other government buildings.  
Once you've finished your tour of Old and New Delhi, take a 4-hour drive to Agra in your private vehicle. Located about 130 miles (205 km) from Delhi, you'll arrive in time to check in to your hotel and unwind for the night.

Overnight: ITC Mughal or Trident Hotel in Agra

Day 3: Agra—Jaipur (B)
Relax over breakfast at your Agra hotel before embarking on your private half-day city tour of Agra. This one-of-a-kind city exploration includes three UNESCO World Heritage Sites. Tour India's most famed and iconic structure—the Taj Mahal—and listen in as your guide explains the love between Mughal Emperor Shah Jahan and his third wife Mumtaz Mahal that gave birth to this stunning building. 

Gain a deeper understanding of how it took more than 20 years and some 20,000 men to construct this white marble mausoleum. Listen as your guide tells stories of a fleet of 1,000 elephants carrying marble from distant rock quarries to construct this wonder.Examine the exquisite marble inlay and spend ample time admiring this structure that blends Turkish, Persian and Indian styles of architecture seamlessly. 

After absorbing the beauty of the Taj Mahal, make your way to Agra Fort. This outstanding architectural example of the Mughal Empire dates back to 1080 AD. Walls, gates and buildings on the 94-acre landscape were erected by Emperor Akbar the Great on the shore of the Yamuna River. Tour the impressive quarters added by Shah Jahan, as well as the exterior ramparts built by Aurangzeb. 

Once you've explored the grounds take a 6-hour journey to Jaipur in the mid-afternoon. Visit Fatehpur Sikri and wander the abandoned 16th century red sandstone city built by Emperor Akbar that once served as his capital's palace. Your guide will point out key areas of interest as you walk the grounds, which were deserted 15 years after they were built. The magnificent city remains in pristine condition and its pavilions, mosques and palaces appear almost untouched.

Continue on your drive to Jaipur where you'll relax for the evening after checking in to your hotel.

Overnight: ITC Rajputana or Trident Hotel in Jaipur

Day 4: Jaipur (B)
Savor a filling buffet breakfast at your luxury hotel before heading to Jaipur's ancient capital of Amber. Stop at Hawa Mahal on your way for a photo op at one of the city's most famous landmarks. This 5-storey palace made of pink sandstone has over 900 windows that ladies of the court used to use to keep watch on the streets below. 

Upon arrival at Amber Fort you'll climb atop an elephant dressed in traditional coverings for a ride to the peak of the towering hill. Look out over Maota Lake at the beautiful ruins that spread out over the Aravalli Range. (You may also travel by Jeep instead.) Stroll through the sprawling landscapes with your guide who will share stories about the former rule. 

Experience the wonder of this 17th-century fort built by Raja Man Singh I and notice how the architectural style blends Hindu and Mughal elements. Marvel at the colorful paintings and walls inlaid with precious stones and glittering mirrors. Then make a visit to the Sheesh Mahal (Hall of Mirrors) where their reflection of a tiny light causes the entire room to glow.

Travel by Jeep to the foot of the hill and head out with your guide on a sightseeing tour of Jaipur. Venture to the City Palace, the seat of power once the Amber Fort fell, and check out the beautiful gardens, exquisite palaces, ornately carved doorways and beautiful archways. Wander the museum galleries where traditional armor, costumes and manuscripts are well displayed. 

Head to Jantar Mantar by foot and learn from your guide about the significance of this astronomical observatory that was built by the Maharaja of Jaipur in the 1700s. Locals say this observatory still makes accurate predication to this day. 

Enjoy wandering local markets and city streets before relaxing in your hotel for the evening.

Overnight: ITC Rajpatana or Trident Hotel in Jaipur

Day 5: Jaipur—Delhi (B)
Have breakfast in your hotel before making the 6-hour journey to Delhi in your private, air-conditioned vehicle. Choose from Indira Gandhi International Airport drop-ff or request drop-off at your Delhi hotel of choice.