You'll never look at India the same way again after this private 5-day tour to Mumbai and Aurangabad from Delhi. After flying to Aurangabad you'll spend two days exploring its myriad of interesting places, including the caves of Ajanta and Ellora, which are listed as UNESCO World Heritage sites. You'll spend the fourth day of the tour in ever-evolving Mumbai, India's richest city and the heart of its vibrant Bollywood film industry. A guide will usher you through the city's museums and its Hanging Gardens, as well as the largest public laundry site in the world, the Dhobi ghat. On Day 5 you'll travel to the airport, where the tour will conclude.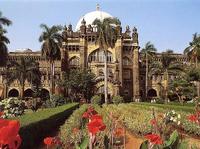 Day 1: Delhi - Aurangabad
Transfer to the airport for your flight for Aurangabad. On arrival, transfer to your hotel. The evening is free to explore Aurangabad at your leisure. Overnight: Aurangabad

Day 2: Aurangabad (B)
Discover the origins of Buddhism in India by visiting the UNESCO World Heritage-listed Ajanta and Ellora caves near Aurangabad. Dating back to the 5th and 6th centuries, the caves are packed with sculptures and frescoes detailing the life of Buddha and are a living testimony to the evolution of Indian art.

In the morning you will travel to Ajanta Caves, approximately two hours from Aurangabad. This complex of 29 caves was thought to be home to more than 200 monks and artisans. Inside, the caves are richly decorated with frescoes and intricate sculptures that are regarded as masterpieces. Overnight: Aurangabad

Day 3: Aurangabad - Mumbai (B)
Not far from Aurangabad are the Ellora caves, a stunning example of stone carved architecture. The 34 caves have beautiful iconography and workmanship reflecting the three main religious groups of Buddhism, Hinduism and Jainism. See the beautiful sculpture of Buddha, the Hindu god Shiva and exquisite craftsmanship of deities. This evening transfer to the airport for your flight to Mumbai. On arrival you will be transferred to your hotel. Overnight: Mumbai

Day 4: Mumbai (B)
Mumbai is a bustling city that blends the old with the new. See the stark contrast of this wealthy city, with its palm-lined streets, art deco homes and fashionable shopping areas amid the chaos of daily life, where cows roam the streets and wallas (local tradesmen) ply their trade. Your full-day tour will take in museums, the Hanging Gardens and the incredible spectacle of the Dhobi ghat, the city's largest public laundry. Overnight: Mumbai

Day 5: Mumbai (B)
Transfer to the airport where your tour concludes.
Itinerary
Hotel Accommodation:

Standard Hotels (3-star):
Clean, comfortable value-for-money accommodation with private facilities.
Aurangabad: Ambassador Ajanta
Mumbai: Hotel Fariyas

Superior Hotels (4-5 star)
Superior properties with an emphasis on comfort, well located with personalized service.
Aurangabad: Taj Residency
Mumbai: Taj President