Visit Kingdom of Dreams, India's extravagant cultural and entertainment center, located in the city of Gurgaon. During this private tour from Delhi, discover the customs, crafts, cuisine and arts of India's many states as you stroll along the center's indoor boulevard – Culture Gully. Enjoy a performance of a Bollywood musical, either 'Zangoora – The Gypsy Prince' or 'Jhumroo,' inside the Nauntaki Mahal auditorium while dining on a set menu centered around distinct regions of India, and finish off your tour by watching short cultural performances showcasing Indian epics and social events.
Why Our Insiders Chose This Tour
Your guide is committed to minimizing our carbon footprint. For every tour, they pay a fee out of pocket to offset the carbon emissions created by the transportation used on this tour. Those funds go to organizations working toward a greener future.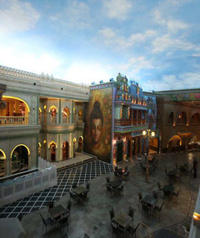 After your private hotel pickup in Delhi, enjoy the drive to the city of Gurgaon to visit Kingdom of Dreams, the city's ultimate entertainment destination that showcases India's fascinating culture through cuisine, design, and fine and performing arts.
Enter the premises and walk along Culture Gully at your leisure, an indoor boulevard teeming with restaurants that represent 14 Indian states. Stop for an authentic meal from any of the restaurants that highlight the diversity in Indian cuisine, and experience the country's uniqueness as you walk in and out of the shops – you'll find yourself staring at Mumbai's Gothic-style architecture one moment and then being offered local Goan treats from a beach shack the next.
Then, make your way into Nauntaki Mahal, Kingdom of Dreams' 835-seat state-of-the-art auditorium featuring a hydraulic stage and a cutting-edge matrix sound system, all fused together to give you an incredible theater experience. Dive into the wonder that is Bollywood as you watch a live performance of Zangoora – The Gypsy Prince. The 2-hour show portrays the epic journey of a young boy from a mere gypsy to prince of the Kingdom of Shaktishila and blends traditional costumes, vibrant music, elaborate dance routines, dialogue and special effects to create a story filled with romance, action and magic. During some days, the musical comedy Jhumroo will be shown instead, which follows the story of a young boy in Mumbai dreaming to be a famous singer; compared to the dramatic traditional scenes of Zangoora, this performance will is sure to give you a good laugh and mesmerize you with retro Bollywood songs. This performance includes your choice of one of 6 set menus for your dining pleasure. Please see below for menu details.

After the musical, make your way to the Showshaa Theater, where shorter performances allow you to discover more of India's heritage. Watch Ram Lila & Krisna Lila, showcasing various excerpts from great Indian epics. Then enjoy a performance of My Big Fat Indian Wedding, where you can be part of a celebration of love told through outstanding choreography and elaborate costumes.
When your Kingdom of Dreams experience comes to an end, meet your driver outside the complex and relax on the private drive back your hotel.
Please note that the showing of either Zangoora or Jhumroo will be at the discretion of show operators.
Itinerary
Please choose only one menu per group booking:

Goa Menu:
Starter: Malvani curry with grilled potatoes
Main: Chicken xacuti curry served with Banastari-style potatoes, lentil dal, steamed rice and Goan chapati and paratha flatbread
Dessert: Cream caramel custard

Chennai Menu:
Starter: Koli roast chicken with baby corn makka cholam
Main: Chicken chettinad served with palkati pathani korma, tomato pappu, lemon rice and malabar parantha flatbread
Dessert: Seviyan payassam sweet vermicelli pudding or adai prathaman rice dessert

Bengal Menu:
Starter: Deviled eggs with assorted vegetables
Main: Red chicken curry served with bati chor chori vegetables, bhuna mongor dal, steamed rice and luchi
Dessert: Kheer puli pastries

Tangra Menu:
Starter: Tangra-style chili chicken with baby corn
Main: Sweet and sour chicken, garlic pepper vegetables, vegetable fried rice and vegetable noodles
Dessert: Kheer puli pastries

Punjab Menu:
Starter: Grilled chicken boti with grilled chickpea patties
Main: Chicken masala with mixed vegetables, lentil curry and tomato puree with mint rice and assorted Indian breads
Dessert: Gulab jamun milk dumplings in syrup

Lucknow Menu:
Starter: Chicken kebabs with spiced yam kebab
Main: Creamy chicken korma with vegetable curry, Sultani dal, vegetable and Basmati rice preparation with assorted Indian breads
Dessert: Phimi, a sweet rice custard accented with saffron and rose water