Relive the history of Delhi and India's Mughal emperors on this 3-hour Sound and Light show experience at the Red Fort (Lal Qila). Travel to the17th-century UNESCO-listed fort, and enjoy a 1-hour music and illuminations extravaganza that tells the story of the city and this symbol of Mughal power. Admire the lights, projections, and lasers twinned with stirring music, special effects, and commentary, and see the Red Fort cast in radiant colors in the darkness.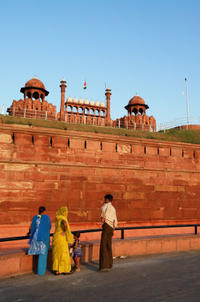 Begin with early evening pickup from your central Delhi hotel (select hotels only), and settle inside your private, air-conditioned vehicle.

Then, pass through the bustling streets on route to the Red Fort, the UNESCO-listed fortress that's an emblem of the city. Ringed by 1.2-mile (2-kilometer) sandstone walls and crowned by gateways and turrets, this massive complex was commissioned by Emperor Shah Jahan in 1638, at the height of India's Mughal Empire, and took 10 years to build.

On arrival, settle in an outdoor seat and be swept up by the lights, music, and drama of the 1-hour Sound and Light show. Chart the story of Delhi and the Mughal Empire over 300 years through the booming commentary, and watch as video projections and imagery bring scenes from India's history alive.

Be impressed by the special effects, and lose yourself in the interplay of music and illuminations, watching as multicolored laser beams sweep over the fort, illuminating its towers, gates, and ramparts in the darkness.

When the show finishes, join in the applause and make your way back to your vehicle. Then, relax on your return ride to your hotel, where your experience ends.