A hop-on hop-off New York bus tour allows you to see the city at your own pace and provides easy transportation to top sights. Entertaining tour guides keep you informed when you're on board, and you can hop off and on the distinctive double-decker tour buses when you wish to check out attractions like the Empire State Building and Rockefeller Center. There are several options and combos to choose from when booking: the 24-hour Downtown Loop, a 48- or 72-hour All Loops (includes the Uptown Loop, Brooklyn Loop and Night Tour), the FreeStyle Pass (includes the All Loops plus your choice of three attractions or activities) or the VIP All-Access (includes skip-the-line benefits and greater flexibility with buses).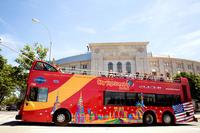 Your hop-on hop-off New York bus tour features pre-recorded commentary in 11 languages, as well as live tour guides to provide assistance and information. The recorded narration includes music and NYC street sounds to keep you entertained while listening to GPS-triggered fun facts about the sights you see from the bus.

When booking, you have several tour options to choose from, detailed below.

24-hour Downtown Loop ticket:
Stops include St Patrick's Cathedral, 42nd Street, Radio City Music Hall, Rockefeller Plaza, Times Square, South Street Seaport, Battery Park, Financial District, Chinatown, Little Italy, SoHo, Greenwich Village and the Empire State Building. Full loop duration is two hours.

48- or 72-hour All Loops ticket:
Downtown Loop plus the following three loops

Uptown Loop
Stops include Harlem Market, Apollo Theater, Grant's Tomb, Cathedral of St John the Diving, American Museum of Natural History, Lincoln Center, Fifth Avenue, Central Park, Museum Mile, Guggenheim and the Metropolitan Museum of Art. Full loop duration is two hours.

Brooklyn Loop
Choose from eight stops; bus pickup is every 30 minutes; full loop duration is two hours. See the Brooklyn Museum, Fulton Mall, Antique Furniture District, Brooklyn Museum of Art and the Botanic Garden.

Night Tour
This 2.5-hour tour is NOT a hop-on hop-off tour. You'll see more than 20 illuminated city sights and neighborhoods, including Little Italy, Chinatown, SoHo, Greenwich Village, the Empire State Building, Times Square and Central Park. During the holiday season, the Night Tour is replaced with the Holiday Lights Tour, which focuses on Midtown to show you New York City's legendary department store windows and other Christmas-themed decorations.

FreeStyle Pass
If you want to combine your hop-on hop-off bus tour with other New York tours, restaurants, museums and cruises, upgrade to this pass, which includes the 72-hour All Loops ticket plus access to a selection of attractions. See the Itinerary section for a full list of options, such as the One World Observatory, Guggenheim, Empire State Building and ferry to the Statue of Liberty.

VIP All-Access 48-hour Pass
The ultimate option—you'll enjoy the 48-hour All Loops ticket, plus skip-the-line benefits at more than 20 select sites. Also included is the ability to ride both the blue and red buses, which give you more frequency and flexibility to get around the city.
Itinerary