Visiting Niagara Falls means a trip into the hustle and bustle of Clifton Hill. The easiest and most economical way to enjoy this hot spot of tourist attractions is with a Clifton Hill Fun Pass. Enjoy admission to six great places: the Niagara SkyWheel, Canada's largest observation wheel; Wizards Golf or Dinosaur Adventure Golf; the Movieland Wax Museum of Stars; the Wild West Coaster and Ghostblasters Dark Ride; an interactive Zombie Attack adventure with real-time 6D graphics; plus five Great Canadian Midway tokens. Now that's a recipe for fun, and savings, all in one convenient location.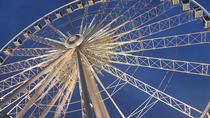 Having fun at Niagara Falls means a trip to Clifton Hill, where there's something for everyone to enjoy. This entertainment hub offers a wide variety of attractions, so it just makes sense that a Clifton Hill Fun Pass is the best way to enjoy lots of them — at great savings.

Start with a ride on Canada's largest observation wheel, the Niagara SkyWheel. Step inside one of the climate-controlled gondolas and soar 175 feet into the air. The view of the famed Horseshoe and American Falls, the Niagara skyline and other landmarks is incredible.

Now there is a choice to make and it won't be easy. Pick from two amazing miniature golf venues: Wizards Golf, a glow-in-the-dark, medieval fantasyland course with brightly colored exhibits of wizards, trolls, and dragons; or Dinosaur Adventure Golf, with not one but two 18-hole golf courses: The Raptor and T-Rex. Together they cover a whopping 70,000 square feet with gigantic pre-historic dinosaur figures, of course, and a volcano.

At Movieland Wax Museum of Stars, see top movie, music and TV celebrities up close — like Johnny Depp, Harrison Ford, Tom Hanks, Justin Bieber, Hannah Montana, Harry Potter, The Terminator, Marilyn Monroe, and so many more. At the end of the museum tour, enter the optional "House of Horrors" for a hair-raising experience. 

The all-new Wild West Coaster is a state-of-the-art 6D motion ride that takes visitors on an amazing adventure by combining modern special FX technology. There's stereoscopic imaging, two Gs of acceleration, seats with 400 movements per second, and wind and lighting effects that have to be seen (and felt) to be believed.

How will you fare in the Zombie Apocalypse? Find out as you blast away at blood thirsty zombies in a battle for survival and all humankind! Enjoy rich multi-sensory adventures with cutting edge graphics and visual FX ensuring top User Experience. The Zombie Attack features real-time 6D graphics and individual scoring system to create a unique adventure.

Finally, the Ghost Blasters Dark ride is an interactive "black-light" adventure with animatronic characters, animated props, and set pieces — oh and a laser gun to blast away at the ghosts, ghouls and goblins.