Enjoy a full day of family fun at the UnderWater World SEA LIFE aquarium on Australia's Sunshine Coast. Explore the 11 underwater exhibit zones, get up close to sharks, stingrays and turtles in the underwater tunnel and spot a rainbow of tropical fish. That's not all: handle starfish at the touch pools, watch the feeding displays at Seal Island and the Otter Empire, and see unique sea creatures like giant barramundi and colorful lionfish.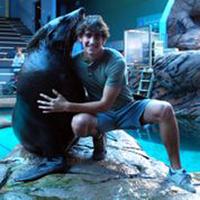 With 11 unique zones and 16 daily keeper presentations to enjoy, there's plenty to explore at UnderWater World on the Sunshine Coast.

Get up close and personal with starfish in the touch pools, and meet stingrays and sharks in the Great Barrier Reef exhibit. Discover dangerous stonefish and amazing lionfish in the Weird and Wonderful display, and spot giant barramundi in the Fresh and Freaky exhibit.

Don't miss hanging out with the locals at Seal Island, especially at feeding time, and meet the aquarium's most mischievous inhabitants in the Otter Empire. Hold on tight when you come face-to-face with huge sharks in the Shark Shipwreck, and see rescued sea turtles hanging out in the Turtle Temple.

Along with more wild life like creepy-crawly crayfish, ancient lungfish and garden tree frogs, you'll see the best of the ocean at UnderWater World.