Stroll the black sand beaches in Hilo and feel the cool spray of Rainbow Falls on this full-day trip to the Big Island from Oahu. See an orchid valued at $20,000 USD at Akatsuka Gardens, and visit the UNESCO-listed Hawaii Volcanoes National Park, where you'll hike along the rim of a crater and step inside a lava tube. Admire the embers of the active Kilauea Volcano, then learn how macadamias are roasted at the Mauna Loa Macadamia Nut Factory. Round-trip airfare and all on-island ground transportation are included.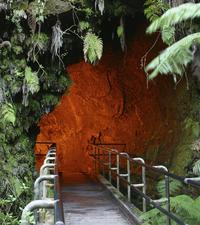 Following pickup in the early morning from your Waikiki hotel (if option selected), head to the Honolulu airport to catch your flight bound for the Big Island. Spend the day learning about the geology and history of the island from your local guide while visiting attractions like Hawaii Volcanoes National Park, the Mauna Loa Macadamia Nut Factory, Akatsuka Gardens and Kilauea Volcano. See Itinerary section below for a detailed list of activities.
Itinerary
Start off in Hilo at Liliuokalani Gardens, named after Hawaii's last reigning monarch, Queen Liliuokalani. Follow your guide into the sprawling 30 acres (12 hectares) of a Japanese-style garden, dedicated in 1917 to the Japanese immigrants who worked on the island's sugar cane fields. Meander through rock gardens and over red bridges, noting the stone lanterns, a tea house and ponds along the way. Your guide takes you to ideal spots where you can admire views of Hilo Bay and Moku Ola (Coconut Island).

Your next stop takes you to Hilo Bay Beachfront Park, stretching nearly 3,000 feet (914 meters) along the coastline. As you walk the beach popular for picnics, surfing and canoeing, learn about the sand's formation from lava.

Next, drive through the coastal town of Hilo and the tree-lined street of Banyan Drive. As you pass classic old buildings and wooden storefronts, learn about the history of the Big Island's largest settlement.

Arrive at Wailuku River State Park and follow your guide into a tropical forest. Reach Rainbow Falls, an 80-foot-tall (24-meter) cascade over a lava cave. Hear about local legends and watch for rainbows misting over the waterfall.

Then, drive through the orchards of Mauna Loa Macadamia Nut Factory and disembark for a tour of the factory. Learn how these nuts are harvested and roasted, and discover dozens of ways to prepare and consume them. In the gift shop, pick up scrumptious samples and purchase boxes of the goodies to take home. 


Travel into the mountains and stop at the greenhouse enclave of Akatsuka Orchid Gardens, boasting more than 1,000 exotic orchids and tropical plants. Take a look at an orchid valued at a whopping $20,000, due to its symmetry and singular characteristics.

Finally, enjoy ample time in the island's star attraction, Hawaii Volcanoes National Park, a UNESCO World Heritage Site. After seeing the exhibits of Jaggar Museum, marvel at the Kilauea Iki caldera, a massive collapsed crater.

Click away with your camera to capture volcanic steam vents and hike along the crater rim to watch for recent volcanic activity. Drive along the Chain of Craters Road to view other volcanic formations. The timing of your afternoon visit to the park allows you to witness the red glow of lava at the active Halemaumau crater at dusk.

You'll also walk through a fern tree jungle and reach Thurston Lava Tube, a 600-foot-long (183-meter) tube formed centuries ago by molten lava. Follow your guide into the spacious, illuminated tube.

After a full day of sightseeing, fly back to Oahu and enjoy drop-off at your Waikiki hotel (if option selected) at night.