Here at historic Kualoa Ranch, experience Oahu's northeastern shoreline with a package of three different tours. Bounce your way down rugged back roads on an adventurous, off-road jungle tour, or visit the sites where many of your favorite movies were shot and filmed. Sail away on a catamaran with views of the Ko'olau Mountains, or relax on a hidden, white sand beach while learning the history of the ranch. Top it off with a buffet lunch, and this day of exploring Kualoa Ranch is the perfect full day adventure.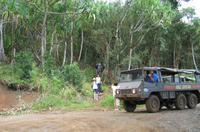 Founded back in 1850, Kualoa Ranch stretches 4,000 acres (1,619-hectares) from summit down towards the sea. Cattle graze in bright green pastures at the base of the Ko'olau Mountains, and waves lap at the white sand beaches of Oahu's northeastern coast.

Aside from the daily ranch activities, Kualoa Ranch has quickly become one of Oahu's most popular attractions—thanks in part to the dozens of films that have been shot right here on the ranch. With the Kualoa Ranch Experience Pass, visitors can travel to the scenes from movies such as Godzilla, Jurassic Park, and Pearl Harbor, or recognize sets for television shows like Hawaii Five-O and Lost.

In addition to exploring the backcountry terrain, you'll relax on a hidden, white sand beach with kayaks, paddleboards, and snorkeling gear, and enjoy a filling buffet lunch of ranch made chili or ribs. There's also chicken and vegetable stir fry, and pass holders can choose up to three of the activities in the Itinerary section below.
Itinerary
Movie Sites and Ranch Tour
Hop aboard a vintage school bus and travel into the Kaʻaʻawa Valley to see where many Hollywood blockbuster movies and TV shows are filmed. Look at the setting for Jurassic Park, find Godzilla's footprints, see the battleground that featured in the World War II film Windtalkers and visit other locations seen onscreen in 50 First Dates and Lost. You might even see a film shoot in progress. Your guide shares entertaining stories about the ranch and movies shot on-site throughout the tour.

Jungle Expedition Tour
Hop on board an adventurous jungle tour in beautiful Hakipu'u Valley in an open-sided Swiss Pinzgauer, a 6-wheel-drive vehicle originally designed for military use. Hang on tight as your expert driver-guide rumbles along jungle trails, maneuvers through stream beds and powers up steep hills to remote spots with incredible views over the eastern coast of Oahu. Expect a bumpy ride over rough terrain as you access wilderness areas on the ranch during this fun off-road tour. (Not suitable for children under three, pregnant women or people with back problems). Kualoa means 'long back' in Hawaiian, named after the region's striking mountain range. Kualoa was historically used for Hawaiian royalty and Hawaiian legends refer to it as a sacred place. Find out more about Kualoa's rich traditions on a storytelling tour that travels from the foothills of the ranch to the wahi pana (sacred place) of Paliku, located at the base of the majestic mountains. Your tour includes an informative video, terrific photo ops and live narration by your friendly guide.

Ocean Voyage Tour
Cruise along Oahu's coast aboard a private catamaran that seats 49. Take in gorgeous Kaneʻohe Bay with fantastic views of Kualoa and Koʻolau mountains, Mokoli'i Island (aka Chinaman's Hat) and Hokule'a Beach—ceremonial home to the first modern replica of an ancient Polynesian sailing canoe. Listen to informative commentary about the history of the area provided by your expert captain throughout your tour. (Not available on Sundays and federal holidays). Take an easy walk to one of Hawaii's best preserved ancient fishponds, hand-built more than 800 years ago to supply fish to local villages. Learn about ancient Hawaiian aquaculture and agricultural, and how Captain Cook's arrival in 1778 influenced the cultural practices. Afterward, stroll through fragrant fruit tree orchards and tropical gardens bursting with flowers including heliconias, ti plants and gingers.

Secret Island Beach
Relax on a gorgeous secluded beach that features white sands and calm water, plus amazing views and lots of water toys. Feel free to use the provided kayaks, stand-up paddleboards, canoes, glass-bottom boat, snorkel gear, volleyball and more. Or simply relax in a hammock or stake your spot on the beach. Bring your swim suit, sunscreen and towel; changing stalls, showers and restrooms are available on-site.