Looking to save some money while visiting Orlando? Try this economical Eat and Play card for 10 to 50 percent savings and sweet deals at some of the area's most popular restaurants, attractions, stores and entertainment venues. This Orlando discount card is valid for up to four people and is redeemable at more than 140 great locations around town. Savings are based on the percentage of the sale, so the more that's spent, the more that's saved.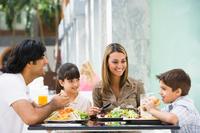 Having fun in Orlando can be costly. If the theme parks and hotels weren't expensive enough, there's also the plethora of additional attractions, the restaurants, the stores — in other words, it's easy to spend a lot in a hurry. Try this economical Eat and Play card on for size. It will provide substantial savings for up to four people at 10 to 50 percent off regular prices at many of Orlando's most popular places. There's no better or easier way to save money around International Drive, Davenport, Lake Buena Vista and other locations than with an Eat and Play Card. 

Just show the card and save.

Some of the merchants include Denny's restaurant, T.G.I. Friday's, Jimmy Buffet's Margaritaville, Tony Roma's, Houlihan's, Ripley's Believe It or Not!, Titanic: The Experience, Hawaiian Rumble Mini Golf, Macy's, Neiman Marcus Last Call, Reebok Outlet Stores, Friendly's, Pizza Hut, NASCAR Sports Grille, Ponderosa, Shoney's, Gatorland, McDonald's, Senor Frogs , Sawgrass Recreation Park, Dinosaur World, Golfsmith and many more.

Notice: Each card is valid for one to four people and is valid for a full 30 days from the first use.