Explore Panama's wild side with a full-day trip to Anton Valley, and spend your day hiking and visiting hot springs nestled in the broad crater of a stratovolcano. Enjoy the cool mountain air as you hike into the forest to visit ancient petroglyphs and a hidden waterfall, then soak your muscles in a steaming pool. Meet the country's endangered species at the Nispero Zoo, along with the exotic orchids that thrive in this lush mountain escape, then browse for souvenirs at a local market before returning to Panama City.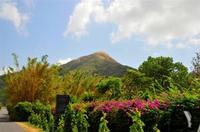 Prepare yourself for a day full of nature and relaxation. Leaving the hustle and bustle of Panama City behind, you'll travel by coach to the Anton Valley. The cool, pleasant climate of this area of Panama attracts nature enthusiasts from around the world. Embark on a hiking journey and explore the lush vegetation of the inactive crater.

Visit the Piedra Pintada (Painted Stone) and discover its ancient hieroglyphics before hiking to the Chorro de Macho cascade, a 115-foot (35-meter) waterfall which drops into a natural whirlpool. The area is abundant with exotic wildlife and home to over 400 different species of birds -- keep your eyes open!

After your hike, you can relax your muscles in the hot springs and enjoy a delicious lunch. Next, travel to the Nispero Zoo, where you'll get up close and personal with some of Panama's most endangered species including the famous golden frog. Spend time gazing at the beautiful display of orchids or simply stroll around looking at the various insects, amphibians and mammals.

Then, before heading back to Panama City, you'll stop at a local market where you'll have the chance to see handmade arts and crafts, tropical flowers and exotic fruits.