Explore a tropical forest in the heart of Panama City on a half-day walking tour through the Parque Natural Metropolitano and Ancon Hill. Watch for sloths, monkeys and tree frogs as you hike through the lush jungle, and learn the names for Panama's native plants and animals. Take in sweeping views of the capital from the top of Ancon Hill, see flocks of birds erupt from the foliage and experience the tranquility of Panama City's only wildlife refuge.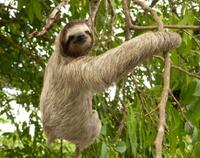 Discover the natural beauty of Parque Natural Metropolitano and Ancon Hill on this half-day trip from Panama City. A perfect getaway from the hustle and bustle of the city, Parque Natural Metropolitao is home to lush tropical plants and wildlife and is spread out across more than 500 acres (200 hectares).

After pickup from your downtown Panama City hotel, travel approximately 10 minutes to the national park. Witness Panama's large biodiversity up close as you enjoy a scenic hike through the national park with your expert guide, who'll point out a variety of native plants and species of birds, butterflies, monkeys, turtles and other wildlife. Enjoy a light snack before continuing on to Ancon Hill.

Next, make your way up to Ancon Hill, the highest point in the greater Panama area. Enjoy an easy walk up the trail with your guide and watch for wildlife, including toucans, buzzards and poisonous dart frogs. Once you arrive at the top, soak in gorgeous panoramic views of the city and the Panama Canal below. Then, hike back down and relax on the drive back to your downtown Panama City hotel.