Discover Panama's rich history by rail on a full-day tour to Portobelo and Gatun Locks from Panama City. Board the iconic Trans-Isthmian Railway that links Panama's two coasts and explore the 17th-century fortifications at Portobelo. Hear stories of pirates and Spanish gold, learn the legend of Sir Francis Drake's final battle, then light a candle beside the revered Christ figure in a nearby church. Finish your day with a trip to the canal's most famous locks, where engineers held back the jungle with a towering earthen dam.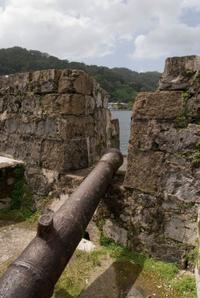 Departing in the early morning from your hotel, you'll head to the train station in Panama City to travel along the famous Trans-Isthmian (Panama Canal) Railway. You'll learn about the history of this railway system, which was built in the 1850s and played a vital role in the construction of the Panama Canal. Your ride to Portobelo is scenic and comfortable as you travel through the Panamanian countryside.

Upon arrival in Portobelo, you'll embark on a city tour to learn about the exciting history and culture of this port city. Notable characters such as Christopher Columbus and Francis Drake are said to have docked in Portobelo. Rumor has it that the city was also victim to vicious pirate attacks and raids. Tour the ancient forts and ruins that led Portobelo to become a UNESCO World Heritage Site in 1980. Areas of interest include the Santiago de la Gloria Fort, San Geronimo Fort, La Aduana and San Felipe Church.

On your way back to Panama City, you'll stop at the Panama Canal for a guided visit of the Gatun Locks. You'll learn about this intriguing system of locks, one of the greatest engineering projects to be undertaken at its time.