Dive Sir Francis Drake Island and explore Portobelo on a full-day scuba adventure from Panama City to the Caribbean coast. Walk crumbling walls built to protect the coast from pirate raids and learn the story of Sir Francis Drake, a fierce privateer who was buried in the bay. Search for his long-lost coffin on a two-tank scuba dive off Isla Drake, and discover brilliant coral, schools of tropical fish and Panama's stunning underwater landscape.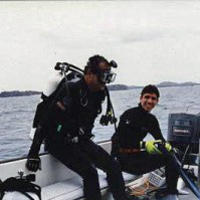 Portobelo is a small, beautiful fishing village with many historical ruins on Panama's north coast. The history of this harbor town is obvious upon arrival; the town was founded in 1597, and the colonial Spanish forts, including the famous San Lorenzo Fort, have since been declared a UNESCO World Heritage Site.

Portobelo Bay is a notable location for more than one reason. It was the area where all the treasures from South America were transferred to Spanish galleons and taken back to Spain. This activity became very attractive to pirates and buccaneers, who would attack the boats and steal the treasures.

The bay is also the final resting place of Sir Francis Drake, who met his death in 1596. He was placed in a lead coffin and cast out to sea off Isla Drake; divers still look for his coffin today, and you can join in on the search!

Your two-tank dive includes a professional diving instructor, who is there to answer any questions you may have.