Indulge your creative side as you discover traditional Malaysian handicrafts and craft your own unique souvenirs on this family-friendly 4-hour tour. Enjoy a pewter-making workshop at the Royal Selangor Pewter Shop, where you'll create a hand-made dish to take home. Then, discover the art of batik and let your imagination run wild as you experiment with colors and patterns to design a handkerchief.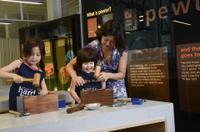 On this tour, get an in-depth look into two of Malaysia's most beautiful handicrafts - – pewter and batik paintings. Pewter is made primarily from tin and mixed with copper or lead, and used to produce various items, such as bowls, plates, spoons and candlesticks. Visit the famous pewter shop, the Royal Selangor, and learn the process of turning pewter into works of art. Your instructor will lead you in making your own hand-made pewter dish, which you can bring take home.

Next, try your hand at batik painting. See a local expert batik painter show their style and skill in creating stunning paintings using wax and dyes. Malaysian batik is characterized by the use of a manual wax-resistant dyeing technique to create large floral motifs and vibrant colors. Learn how to create your own unique batik handicraft to take home as a memorable souvenir.