Sesame Place® is where Sesame Street® comes to life. Located 30 minutes north of Philadelphia and 90 minutes south of New York City, Sesame Place has a variety of rides and shows, from Cookie Monster's Land and Elmo's World to the Neighborhood Street Party. Join the fun!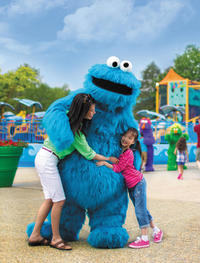 Sesame Place is the country's only theme park based entirely on the beloved TV show Sesame Street.

Join in the fun all season long with whirling rides, splashy water slides, toe-tapping shows starring everyone's favorite furry friends and the Neighborhood Street Party. The fun never stops at Sesame Place- go before they grow™!

See 'Itinerary' section below for additional information on rides and attractions.

Please note: Tickets are only valid on selected date of travel.
Itinerary
Captain Cookie's High "C's" Adventure
Ahoy Monsters! Set sail on a high seas adventure with Captain Cookie. Enjoy the rolling waves of the ocean with the speed of the wind!

Oscar's Rotten Rusty Rockets
Join Oscar the Grouch and his best pal Slimey as they blast off on their monstrous space mission! Even the grouchiest of grouches will giggle and glide through the straight-aways and around the curves in each trash-can rocketship.

Honker Dinger Derby
Cruise up and down and all around on the Honker Dinger Derby! Experience the twists and turns in colorful derby cars on this exciting ride designed for monsters 42" and up.

Monster Mix-Up
Get up, get down and go around and around with everyone's favorite furry monsters! Move and groove as you spin across the dance floor on this family favorite tea cup ride.

Flying Cookie Jars
Spin around in a giant cookie jar 40 feet above the ground for a monster's eye view of the park. Soar high into the sky while visions of cookies dance in your head. Nom, nom, nom.

Monster Clubhouse
Everyone is welcome at the Monster Clubhouse - no secret password necessary! Discover new levels of fun, climbing, and exploring on this 3-story colorful net climb. Kids and parents alike will have a monster of a good time playing together on this fun filled structure.

Mini Monster Clubhouse
The Mini Monster Clubhouse is a soft play area designed for kids 5 and under. While bigger kids play in the Monster Clubhouse, mini monsters can jump, climb, crawl and play their way through this colorful toddler play area.

The Count's Splash Castle
A multi-level, interactive, water-play attraction that stimulates the imagination and offers exciting hands-on entertainment. It features more than 90 play elements including a 1,000-gallon tipping bucket, water slides, valves, levers, bridges, hydro blasters and water wheels!

Elmo's World
No one has an imagination like everyone's favorite furry red friend! On three rides, you can fly, soar and spin through the mind of one very creative monster. It's Elmo's world. We just play in it!

Big Bird's Rambling River
A water-filled adventure! Float in an inner-tube along a 1,000-foot (304-meter) waterway through Sesame Island. Pass spraying geysers, glide under waterfalls and watch out for tipping coconuts.

Bert and Ernie's Slip and Slide
Give into gravity and slip-slide away -- fast! Bert and Ernie's Slip and Slide features two intertwining body flumes that twist and turn their way down, shooting you into a splash pool grand finale.

TM/© 2014 Sesame Workshop