Steer a 4WD buggy through the Sonoran Desert near Phoenix on a 2-hour self-drive twilight tour that goes deep into off-road trails, rugged washes and rocky ridgelines. Suit up and strap into your two-seat vehicle with a roll cage and automatic engine, then follow your guide into the wild, rugged terrain. Take in sweeping views and watch the evening light transform the desert landscape as you look for the foxes, coyotes and birds that come out when the sun goes down.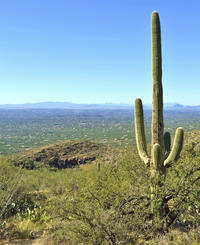 Enjoy an exciting off-road adventure through the Sonoran Desert on this exclusive self-drive twilight tour! These two-seat desert cars are specifically designed for desert off-roading, and are fitted with a safety roll cage, seat belts and a fully automatic engine.

The Sonoran Desert is one of the biggest deserts in North America, covering large parts of the southwestern United States including Arizona and California. At sunset, leave Fountain Hills (about 30 minutes east of the Phoenix-Scottsdale area) and embark on your thrilling self-drive adventure through the Sonoran Desert. Follow your guide through the rugged desert landscape by the light of your roof-mounted LED light bar and your guide's taillight. Cruise through off-road trails, washes and ridgelines with your passenger while admiring awesome views of the surrounding desert.