Just a short drive from Playa del Carmen, the Puerto Aventuras Dolphin Encounter allows everyone from little kids to adults to get up close to these lovable marine marine mammals while experiencing them in a whole new way. Watch them perform synchronized tricks and even receive a dolphin hug, kiss or handshake. It's a great alternative for non-swimming wildlife lovers—you can even score a souvenir pic (for an extra fee).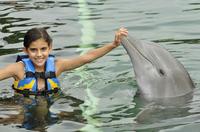 This is the perfect way to discover dolphin's best kept secrets in a safe and fun-filled environment while vacationing in Puerto Aventuras, Mexico! You'll be surprised by the great intelligence and friendliness of these wonderful marine mammals. Learn all about this amazing creature in an environment that is ideal for children of all ages!

You'll have the opportunity to hug and kiss the dolphin and the dolphin will respond with a friendly kiss on the cheek! Watch the dolphins as they perform a series of amazing tricks and marvel at their astonishingly entertaining behavior! They will make you tingle with excitement!