Prague's time under communist rule, from 1948 to 1989, is as fascinating as its medieval past. This 3-hour private walking tour focuses on the city's Cold War years, providing a real flavor of the oppression and hardships that took place here. Among other sites, see the National Monument's Soviet statuary and former presidential mausoleum; visit the John Lennon Wall; and explore Wenceslas Square, the scene of many uprisings, including the 1989 Velvet Revolution.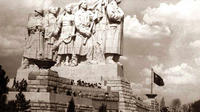 Meet your historian guide in central Prague, and begin your 3-hour private walking tour of the city's Soviet-era sites. As you walk, learn about the former Czechoslovakia's and Prague's time under communist rule from 1948 to 1989. Hear snippets about life under the Soviet-controlled state, and view some of the key locations of the era.

Head for the National Monument on Vitkov Hill, and see the statues and decorative friezes of The Hall of the Red Army, designed to honor the Soviet soldiers killed during World War II in Eastern Europe.

Visit the mausoleum that once displayed the mummified body of Klement Gottwald, Czechoslovakia's President from 1948 to 1953, and peek into the laboratory and temperature-control center where staff endeavoured to maintain the embalmed body. Then, climb the memorial to absorb sweeping views over the city, including the Old Town, and famous Žižkov Television Tower on the horizon.

Next, head into the city center to see some of the sites that speak of people's daily lives under communist rule and the oppression of the Cold War period. View Letna Hill, where one of the world's largest statues of Josef Stalin once glared down over the city, and stop at the John Lennon Wall, where those wanting Western-style freedom painted graffiti messages of hope and revolution.

Finally, walk around Wenceslas Square, the scene of several Czech demonstrations during the late 20th century. Hear how Warsaw Pact tanks converged here to crush the 1968 Prague Spring, ending an 8-month period when freedom of speech and an independent press were allowed to blossom.

See the monuments to brave Czech protestors, and learn about the events that took place here in 1989, ultimately carving out what's known as the Velvet Revolution that ended communist rule.