Ahoy Matey! Are you looking for a shore excursion that's fun for the entire family? Next time you're in port in Puerto Vallarta, book a pirate sailing cruise along Banderas Bay. You'll set out for the remote shores of Majahuitas Beach aboard a replica of Columbus's Santa Maria with a cast of costumed pirates accommpanying you. Once at the beach there's time for kayaking, snorkeling and beach volleyball (or simply relaxing); then it's back on the ship for lunch and plenty more pirate antics as you return to your port of call.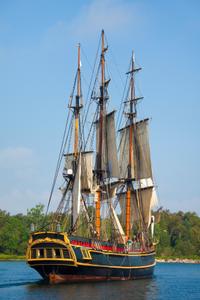 Your Puerto Vallarta pirate cruise through Banderas Bay sets sail at 9am. This shore excursion will take you on a family-friendly adventure filled with the pirates of the seven seas. The fun starts with interactive games and contests aboard the ship as you sail through Banderas Bay.

On your way to the secluded Majahuitas Beach – the land of the pirates – a mock pirate battle will take place. Captain Sam fights with the treasonous pirate Shrek, who tries to seize the ship. Have a ball while discovering who wins this action-packed battle on the Bahia de Banderas.

When you arrive at Majahuitas, you'll enjoy a variety of beach activities like snorkeling, boogie-boarding, kayaking or riding the banana boat. There are also beach volleyball and children´s games, or you can just hang out on the soft sandy beach and catch some sun.

Once you return to the ship, a delicious lunch is served (chicken cordon blue, fish fillet, and hot dogs and hamburgers for kids). After lunch, the fun continues with more music, games and surprises for the entire family.

With excellent service and guaranteed fun, the Puerto Vallarta Banderas Bay pirate sailing cruise is a fantastic shore excursion for families in port.

Worry-free Shore Excursion:
We will ensure your excursion ends with ample time for you to return to Puerto Vallarta for your ship's departure. In the rare event your ship has departed, we will arrange for transportation to the next port-of-call. See our terms and conditions for full details.